3 long-term care facilities in Wilkes-Barre getting $37.5M in upgrades
Category: Media
Posted On:
Written By:

Allied Services Integrated Health
​
REPOSTED FROM TIMES TRIBUNE  BY STEVE MOCARSKY STAFF WRITER Sep 5, 2022
Two skilled nursing homes and a senior living community in Wilkes-Barre are getting some major upgrades in a $37.5 million renovation project.
Interior and exterior work has been ongoing at Allied Services Center City Skilled Nursing (formerly St. Luke's Villa) at 80 E. Northampton St., and interior renovations at Allied Services Meade Street Skilled Nursing and Meade Street Residence (formerly Little Flower Manor and St. Therese Residence) at 200 Meade St. are underway as well.
"Ever since acquiring these properties from the Diocese of Scranton in 2019, we've intended to bring them up to Allied-caliber facilities," Jim Brogna, vice president, strategic partnership development, for Allied Services Integrated Health System, said in an interview last week.
Brogna said the Center City property is almost doubling the capacity for residents, from 50 private and semi-private rooms to 92.
"And it's right in the most critical area of downtown Wilkes-Barre," Brogna said.
Brogna said about 65% of the total renovation investment is in the Center City property.
"It's going to look more like a hotel than a nursing home. We're pretty excited," Brogna said. "Just because we're a nonprofit doesn't mean we don't have the highest standards when it comes to taking care of our residents and staff."
Brogna noted that the skilled nursing facility was the only one in Luzerne County to maintain a five-star rating from the Centers for Medicare and Medicaid Services during the COVID-19 pandemic.
Work is progressing at a slower pace than it would normally for such a project because staff and contractors are taking pains to ensure minimal inconvenience to residents to as it progresses.
Work at the Meade Street facilities is nearing completion faster because there's less involved. Brogna said Allied Services will hold a news conference there later this month to show the transformation to the community.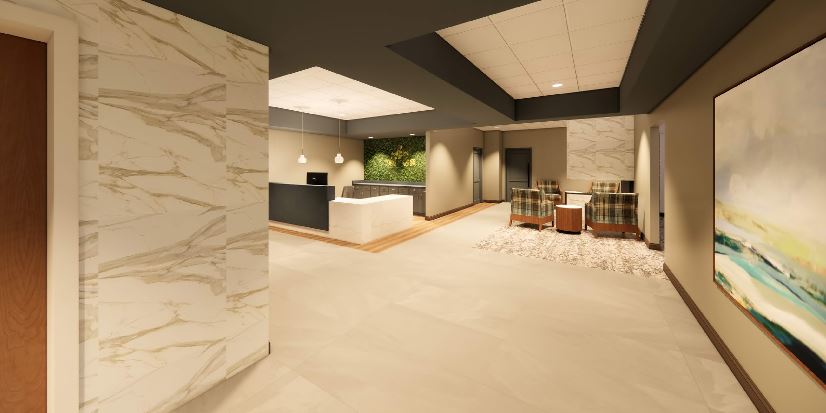 He expects renovations to be complete at the Center City property sometime in the spring.
Allied Services has requested that the Wilkes-Barre City Financing Authority back a bond issue for the work. A resolution to authorize it is on city council's agenda for Thursday's meeting.
Contact the writer: