Free balance screening: maintain your independence
Are you at risk of a fall? Have you been experiencing dizziness or difficulties with everyday activities? Are you struggling with stairs? Do you have difficulty walking? Have you fallen in the last 6 months? Do you have difficulty rising from a chair?
If you answered yes to any of these, we can help.
Maintain your Independence
Physical Therapy can be an effective tool in improving balance and reducing fall risk at any age.We can help you assess your fall risk and any issues with everyday function.
Allied Services is offering free balance screenings at many of their conveniently located Rehab Centers.
At your balance screening, our experienced physical therapists will assess your function and balance, and make recommendations to help you stay active, safe, and independent. Based on the results of your balance screening, we can improve your strength, mobility, and balance, and make recommendations to make your home safer. Our free balance screenings take just 30 minutes and are conducted in a safe, welcoming environment.
Call to schedule a free Balance Screen
Scheduling is easy. Simply call Michelle at 570-341-4654 or fill out the quick contact form below to get started.
Benefits of Physical Therapy
Did you know that Physical Therapy has treatment strategies that can lessen these risk factors for falls and improve independence and safety at home and in the community? Dependent upon the patient specific risk factors, treatment and strategies may include the following:
Ambulation and stairclimbing training, including recommendations for assistive devices and orthoses
Transfer training
Strengthening and ROM exercises
Manual therapy to improve ROM
Postural control and core strengthening
Balance training on varying surfaces
Vestibular rehabilitation, when indicated
Conditioning activities
Recommendations for ambulation assistive devices, lower extremity orthoses and home modifications, to improve independence and safety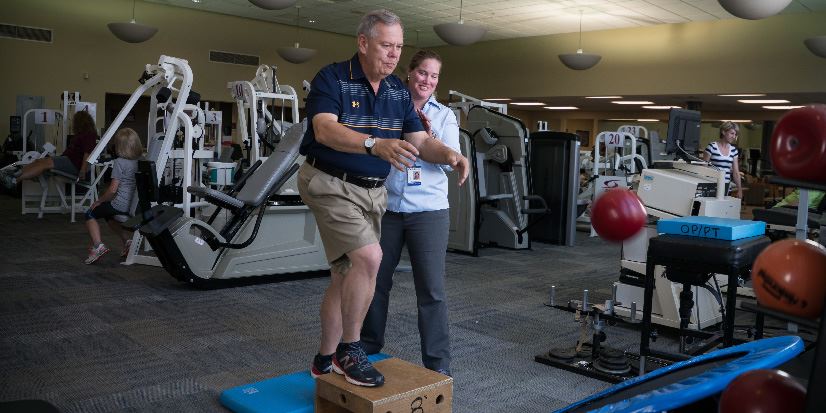 Fall Prevention Program at Allied Services
Falls are the leading cause of injury and accidental death in adults over the age of 65. Even the smallest reduction in problem areas can impact safety and quality of life by reducing fall risk. Occupational and Physical Therapy can help reduce fall risk.