A New Perspective on Living: Alexis' Story
Author: Alexis M
Date Submitted: Jun 9, 2023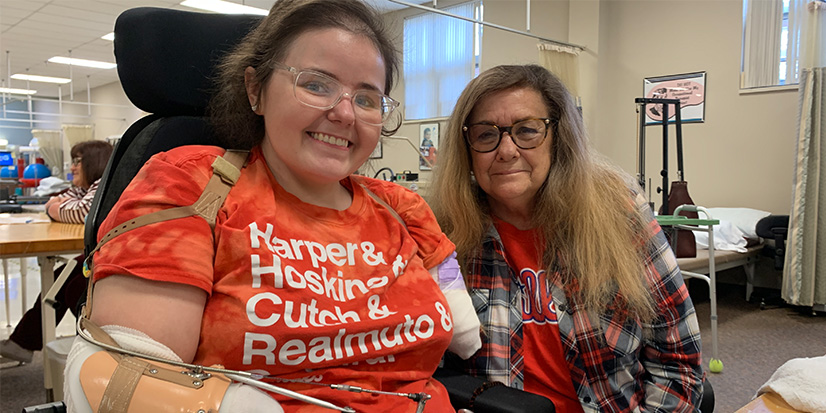 "One day I was a physician's assistant - the next day I was a patient."
As we sat down to talk to 27-year-old Alexis M. of Wilkes-Barre, she recalled the events leading up to the mystery illness that changed her life.
"I was working at a convenient care in Wilkes-Barre last May, and I wasn't feeling well - it was a stomach-like illness, so I went home early. As the night went on my symptoms got worse and the next morning it was really bad. Being a PA (physician's assistant) I was constantly evaluating myself and I was checking off all the symptoms of appendicitis so I went back to work, but this time as a patient not as a PA."
When Alexis went back to work she was right - all the bloodwork and a CT Scan confirmed she was showing signs of appendicitis and she was admitted to the hospital for surgery - but things took a strange turn.

"I went in for a routine appendectomy, but I woke up 6 days later in a different hospital with bandages on my arms and legs finding out it wasn't my appendix at all, in fact, they weren't really sure what had happened to me."
During a very complicated few days, Alexis was placed into a medically induced coma as she endured multiple abdominal surgeries, and her body fought against septic shock, kidney and liver failure, and pneumonia.
"For 6 days I was on a ventilator fighting to stay alive."
"Doctors finally arrived at the diagnosis of Toxic Shock Syndrome (TSS), but we still aren't sure what caused it. Years and years ago it was caused by certain feminine hygiene products, but that wasn't the case for me. For me, the actual cause still remains a mystery."

Toxic shock syndrome is a rare but life-threatening condition caused by bacteria getting into the body and releasing harmful toxins. Certain bacterial infections release toxins into the bloodstream, which then spreads to the body's organs. This can cause severe damage, illness, and even death.

"To make things even more complicated, because of all the difficulties and emergencies that happened during the 6 days I was in a coma - certain medicines known as vasopressors were used to help maintain my blood pressure and basically keep me alive. Vasopressors help move blood flow to your vital organs - but in the process, the flow of blood to your extremities is greatly reduced."
"While I was in Scranton the tips of my fingers and toes were basically black and as the days went on it was creeping further and further up each limb - and because of the TSS, my skin was also beginning to blister and slough off all over."

After a few hurdles and a family member's chance encounter with one of the directors from the University of Pennsylvania Medical Center, a transfer to the Philadelphia-based hospital was arranged.
"I was at UPENN for about 6 days before they recommended a transfer to the burn unit at Thomas Jefferson. While I wasn't a traditional burn patient, the blistering and sloughing were getting worse and presenting like a burn so that was the best place for me to be. Once I was there, the decision to make amputations was made."

"I had amputations done on all 4 limbs: my left arm above the elbow, right arm below the elbow (wrist and hand), and all of my toes - known as a transmetatarsal amputation."

Between operations and rehabilitation, Alexis would spend nearly 10 months in Philadelphia working between Penn Medical Center, Thomas Jefferson, and Moss Rehab before finally transferring to Allied Services Rehab Hospital in Scranton.

"I love it here! Everyone is so nice. I'm learning so many things and I'm getting such great care - and I am much closer to home which means I get to see my family and friends a lot more, and my dog Wally too!"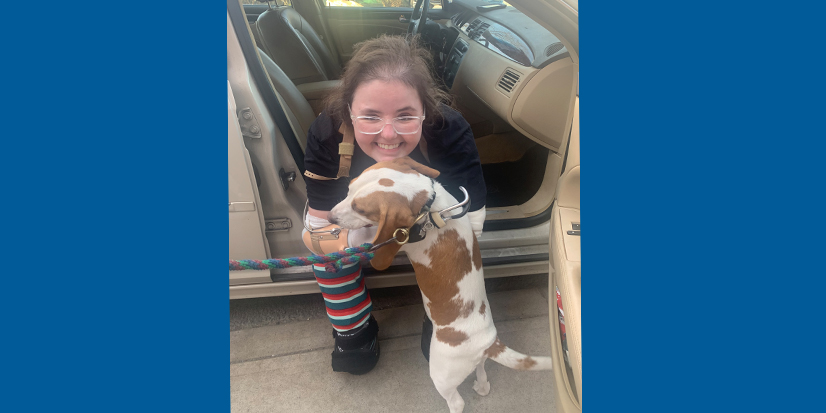 Alexis spends several hours each day between physical and occupational therapy and her mom comes to sessions as well. The goals of the amputation program at Allied Services are to assist the patient in achieving functional independence, improve quality of life and provide effective patient and family education. The Amputation Rehab Team develops individualized treatment plans aimed at assessing risk, promoting functional gains, and teaching the patient and family effective coping skills for life after discharge.

One of the key components of the program is occupational therapy.

"Occupational therapy is an important source of support for patients following amputations. We work with patients to maximize their level of independence in day-to-day activities. We identify goals, routines, and activities they wish to maintain or work toward. Each amputees journey is as unique and we can help by providing some of the methods needed to lead fulfilling lives," noted Amy Frantz, MS, OTR/L, Allied Services Rehab Hospital, Scranton.
"I've learned so much in OT. Not only things that make me more functional - but things like this paint by number. I'm working on my skill, but it also makes me happy. It's good for my mind."
"In physical therapy, I've been walking a bit in the Zero-G - but the open wounds on my feet continue to be a problem so I'll be going back to Penn Medical Center to see if more surgery or more extensive amputations are necessary. We're also going to talk about bi-lateral hand transplants to see if I'm a candidate for that - so that's pretty exciting, but the wait for something like that can be really long."
"For now, I have a body-powered hook prosthetic. I do like it because it does make me a lot more independent and a lot more functional - but I am hoping to get myoelectric prostheses."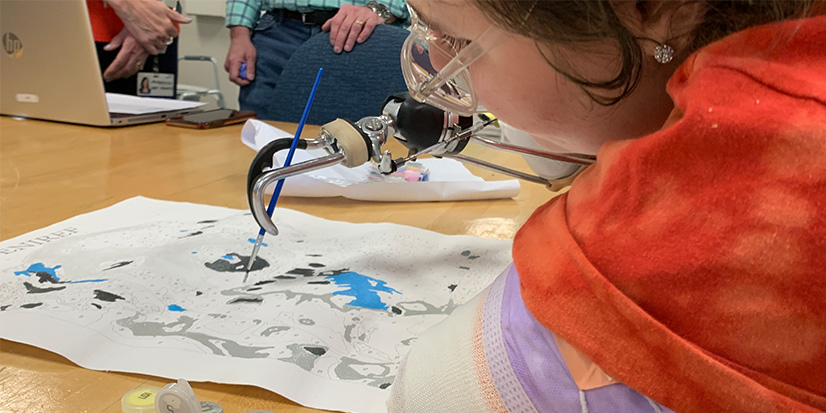 Myoelectric prostheses are advanced prosthetics that use muscle activity from the remaining limb for the control of joint movement. Electromyographic (EMG) signals from the limb stump are detected by surface electrodes, amplified, and then processed by a controller to drive battery-powered motors that move the hand, wrist, or elbow. While myoelectric prosthetics do have a hook option most have a robotic hand.

"I'm thinking long term; it has been hard journey for sure and I have my share of bad days, but I'm not going to let this stop me. I work at it day by day. I'm very motivated and driven because the only options I have are pushing through or quitting and I'm not a quitter."

"I want to get better. I want to get stronger. I want to be more independent and eventually, I will get back to work!"

"One day at a time."