Fall Prevention Program
Did you know, it only takes a small reduction in your mobility, strength, vision, or balance to greatly increase your risk of a fall? An evaluation and treatment plan with one of the experienced therapists at Allied Services can help significantly reduce a person's fall risk and help them live safely and independently at home.
Call 570-348-1360 and ask about our Fall Prevention Program at any of our convenient Outpatient Rehab Centers.
Falls are the leading cause of injury and accidental death in adults over the age of 65. Falls experienced by older adults are caused by a combination of risk factors, including:
Upper and lower extremity muscle weakness
Trunk and postural weakness
Weakened endurance
Balance deficits cause by orthopedic, central nervous system, and vestibular disorders.
Dizziness and coordination deficits
Cognitive and behavioral impairment
Low vision
Home and community environmental hazards
Even the smallest reduction in problem areas can impact safety and quality of life by reducing fall risk. Occupational and Physical Therapy can help reduce fall risk by addressing:
Physical risks such as losses in the areas of vision, endurance, strength, range of motion, posture, coordination, and balance
Cognitive issues
Behavioral risk factors that people that include unsafe activities in the home and community
Environmental hazards found in the home, residence or community including removing tripping hazards such as removing electrical cords, throw rugs, and floor clutter. Other recommendations may include handrails for stairs, installation of grab bars in tubs/showers / near toilets, keep commonly used items within easy reach, improve lighting, etc.
Physical Therapy to Reduce Fall Risks
Did you know that Physical Therapy has treatment strategies and recommendations for equipment and home modification that can lessen these risk factors for falls and improve independence and safety at home and in the community? Dependent upon the patient-specific risk factors, treatment and strategies may include the following:
Ambulation and stairclimbing training, including recommendations for assistive devices and orthoses
Transfer training
Strengthening and ROM exercises
Manual therapy to improve ROM
Postural control and core strengthening
Balance training on varying surfaces
Vestibular rehabilitation, when indicated
Conditioning activities
Recommendations for ambulation assistive devices, lower extremity orthoses, and home modifications, to improve independence and safety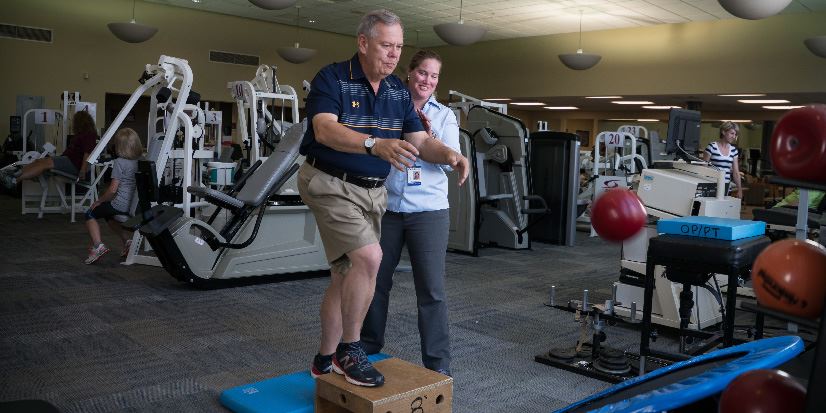 Occupational Therapy to Reduce Fall Risks
Many older adults, adults, adolescents, and children experience visual related changes that cannot be corrected fully through eyeglasses, contact lenses, medication, or surgery. Occupational Therapists can help these people maximize their safest level of independence using a variety of treatments including but not limited to environmental adjustments, task modifications as well as compensatory techniques. Treatments can include:
Use of computerized technology
Vision equipment
Lighting/contrast techniques
Teaching/improving visual scanning and tracking skills
Technology training to include magnification devices, computers, smart phones and tablets
Caregiver training
Modifying the environment such as rearranging the set up of a room, education of available community resources and recommendations for appropriate follow-up with other health care professionals.
Call 570-348-1360 and ask about our Fall Prevention Program at any of our convenient Outpatient Rehab Centers.