All for Family: Victor's Story
Author: Victor G
Date Submitted: Jun 9, 2023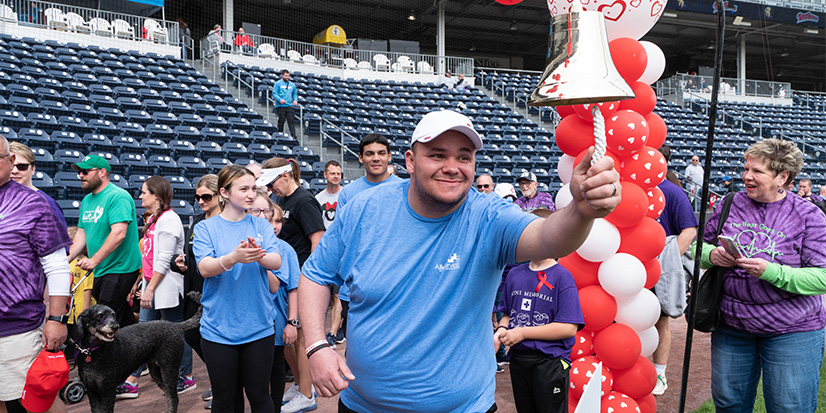 " My family is my world, they are my everything, and I want to be here and do the best I can for them."
In October 2020, Victor G. of Peckville was going home after a busy day when he noticed things didn't feel right. After work, he stopped at his daughter's apartment after attending his younger daughter's cross-country practice.
"I started to feel a little off as we got to my daughter's apartment, so I got out of the car to sit on the curb for a minute. My daughter noticed I was slurring my words a bit and my face started to have a bit of a droop. "Everyone kept asking if I was ok, but I insisted I was fine," Victor remembers.
Victor drove himself the short drive home. By the time he pulled into the driveway, he was paralyzed on his right side.
Seeking Immediate Help
Victor's neighbor and wife helped him into the house and rushed him to the hospital. After several tests and a few days in the hospital, there were no definite answers for Victor's symptoms. His blood pressure and blood sugar were high, but he had no previous history of diabetes or heart trouble.
As the days went on, his symptoms began to subside, and he was sent home. Just a few days later, he was back in the emergency room, unable to move his right side again.
A Delayed Diagnosis
In the emergency room, he was diagnosed with a stroke.
"Once I was back in the ER (emergency room), the doctor told me I was having a stroke and couldn't believe it. I was just 37 years old. They thought that it might have been caused by a damaged blood vessel from a car accident I had been in a few months earlier. One part healed and another part didn't."
Victor spent about a week in the acute care hospital before moving to Allied Services Rehab Hospital in Scranton to begin his rehab journey.
Setting big goals in Stroke Recovery
"When I got here (Allied Services Rehab Hospital), I was completely paralyzed on my right side," says Victor. "I remember Dr. Wolk asking me what my goals were, what I wanted to achieve, and I told him I wanted it all. I couldn't talk as well as I can now, but I remember trying to say - I want to talk. I want to walk. I want to drive."
Michael D. Wolk, MD, is Medical Director of Allied Services Scranton Rehab Hospital and of the Stroke Recovery Program at Allied Services.
"Dr. Wolk was honest with me, and he told me it wasn't going to be easy, and I knew it was going to be a long hard road - but I was determined, and the team here in inpatient and in outpatient, they really helped get me right where I wanted to be."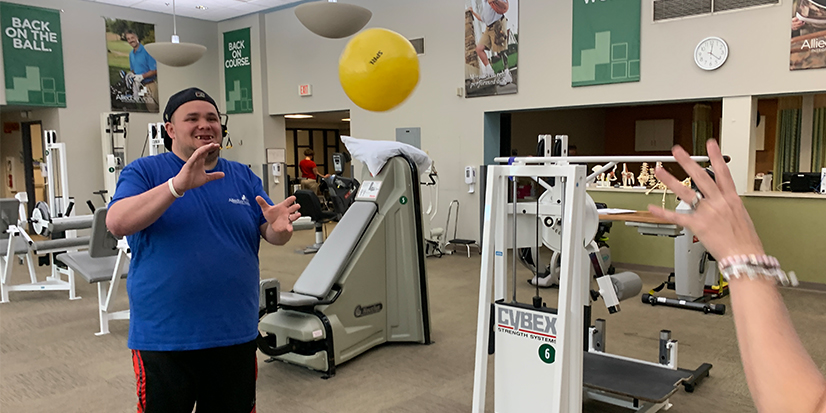 Victor working on balance and coordination in physical therapy
Making progress in Stroke Recovery
Once discharged from the inpatient rehab hospital, Victor continued his stroke rehabilitation with the help of the therapists at Allied Services Scranton Luger Rehab Center. Even now, Victor is still making gains.
"When Victor first came to us about three years ago, he was hemiparetic on his right side and was using a wheelchair. About a week after we started his therapy program, he moved out of the wheelchair onto a cane and then to no assistive devices or braces at all," noted Leslie Ritter, PT, DPT, MSPT, physical therapist, Allied Services Luger Scranton Outpatient Center.
"After a stroke, the brain can take some time to heal, and we want to encourage whatever we can from the outside in for that healing to happen, so we start on the big three - strength, endurance, and balance."
"At first, we focus on just getting up safely. Then getting from point A to point B safely while increasing the distance - but then there's returning to the real world, where you will have a lot of other factors and stimulation coming at you. So we need to prepare."
"Things that come so easily to you or I, but our stroke patients have to think about now are things like - walking and carrying something at the same time - or having someone talk to them while they're doing that - it sounds simple, but this is a lot of stimulation all at once. I have patients that will stop walking when they have to talk and not even realize they are doing it and it's because their brain can't process both activities at the same time. This is where stroke causes a bit of a cognitive disruption, so we tie in some multi-tasking activities too."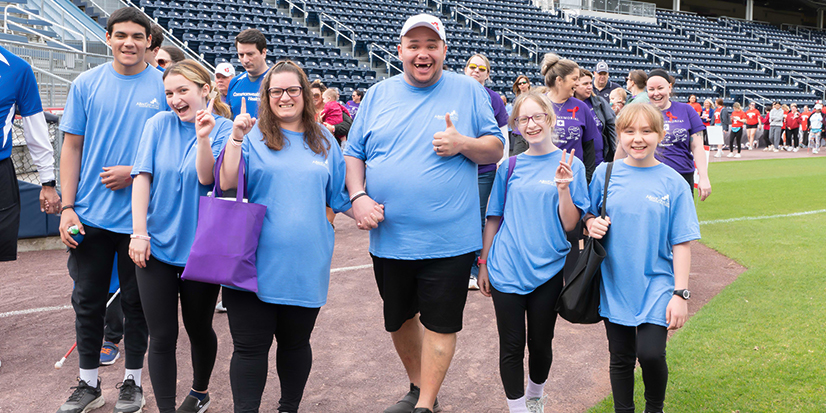 Victor and his family at the 2023 Stroke Miracle Lap in Moosic, PA
Maintaining Mobility and Independence years after a Stroke
Victor is back at the Luger Scranton Outpatient Center for a tune-up today.
"For patients with these chronic neurologic episodes - a stroke is a lifelong condition, and for Victor, he was starting to notice his endurance was declining, as was his balance - and he was starting to have trouble multi-tasking again. Many people who suffer from a stroke might think that once the function is lost, it's gone - but not necessarily."
"For Victor, we started back to our strength, balance, and endurance training - along with our multi-tasking and coordination activities and he has made incredible progress again."
"Having a stroke changed not only my life - but it changed my wife's life, my kids - it changed for everyone. It took me away from my career, but I still find things and people to be grateful for every day."
Because of the severity of his stroke, Victor was deemed disabled and unable to return to work, but he said he's not letting that hold him back from the best job he has ever had - father and husband.
"My family is my world, they are my everything, and I want to be here and do the best I can for them."