Stroke Recovery: Ken's Story
Each year, strokes affect thousands of Americans, and each patient is affected in different ways.
Strokes are the result of blood vessels in the brain either bursting or becoming blocked, and can cause disability or even death. Strokes change lives, and only some are lucky enough to survive this mostly-preventable affliction. Studies show that nearly 80% of all stroke cases are preventable through methods like eating healthy and regularly exercising.
It is common for stroke survivors to develop aphasia, a language disorder which can affect speech, comprehension, writing, reading, and general communication. Some people with aphasia may be able to understand what's being said to them but can't fully express themselves. Others might struggle with understanding fast conversation.
Aphasia can be caused by a variety of things such as head injuries and infections, but in the case of Ken L of Scranton, he developed a form of aphasia when he suffered a stroke in February of 2022. Ken was rushed to the emergency room and was later referred to Allied Services Scranton Rehab Hospital. The hospital is one of the country's top facilities providing inpatient rehabilitation and home to the experienced care teams and cutting-rehab technology necessary for the best stroke rehab outcomes.
Ken spent 3 weeks at the Scranton Rehab Hospital. When he arrived, he was unable to walk or talk. He spoke to us about his experienced and rehab journey.
"I knew what a stroke was, but I didn't even know that I was having one" says Ken. "I came home and did my normal activities, and I sat down and watched TV. I noticed that I didn't feel quite right, and my leg was lagging a bit. My wife called the ambulance, and they wanted to put me in a stretcher. Instead, I walked into the ambulance. I could walk and talk and I felt mostly fine."
Today, Ken is making great progress. He is back at home with his wife, Rosalie, and receiving regular speech, occupational, and physical therapy at Allied Services Luger Scranton Rehab Center.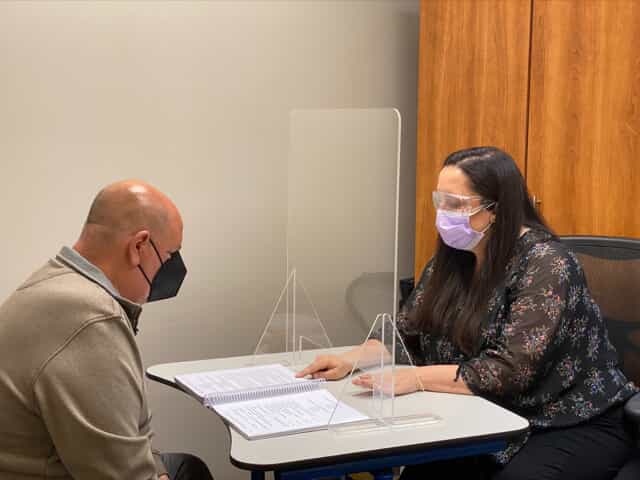 "While he still has a ways to go, he's making excellent progress every week. Ken's recovered enough to have his aphasia be considered mild. I'm proud of the progress he's made and the work he has put in", says Danielle Burrier, MS, CCC/SLP.
Ken is no stranger to hard work. He most recently worked for the City of Scranton in the flood department. He took on odd jobs here and there to help put his son, Sam, through college.
"He was always such a hard worker" says Rosalie. "He'd help my coworkers out around the office with odd jobs like putting in a new window or fixing a door. It was all to help out our son, Sam."
"Ken is my rock and I'm his. His stroke changed our lives, but we're managing. He's improving so much. He couldn't walk in the hospital, and now he's able to get around again! He's independent, let me tell you. I'll always tell him to wait for me to come home to do something but he always does it anyway. While I worry every day, it's good that he's so determined to get better."
Sam is getting married later this year, and Ken is using it as a milestone to get as far as he can in his recovery.
Ken says, "I'm fortunately very lucky. I'm very determined to get better, and I'll keep on plugging on. I want to go back to work and get my driver's license back. I want to start exercising more and to get my high blood pressure down."
"Everyone's story is so important. The more people who know about a stroke, the more it can be prevented. For me, I know that if I keep working hard, I'll get to where I want to be."
Stroke Recovery at Allied Services
Our inpatient and outpatient stroke rehab programs address physical, cognitive, behavioral, and socialization needs as well as identify and manage risk factors to help prevent future strokes. To learn more: