Career Spotlight: Gaining confidence through work
Category: Career Spotlight
Posted On:
Written By:

Allied Services Integrated Health
Back in 2016, we covered the story of dietary employee Richard M. As a child, he was non-verbal and received an Autism diagnosis. Now a young man, Rich has found his place and a career at Allied Services. With the help of Allied Services Community Employment Specialists, job coaching, and the co-op program at his high school, Rich was able to find a career, and friends, that he could build on.
When we last checked in, Rich was a bit shy and was working in the dietary department at Allied Services in Scranton doing kitchen maintenance. Fast forward to 2022, and Rich is now a cook serving hundreds of meals a day!
"They gave me the opportunity to learn to cook and I love it," notes Rich.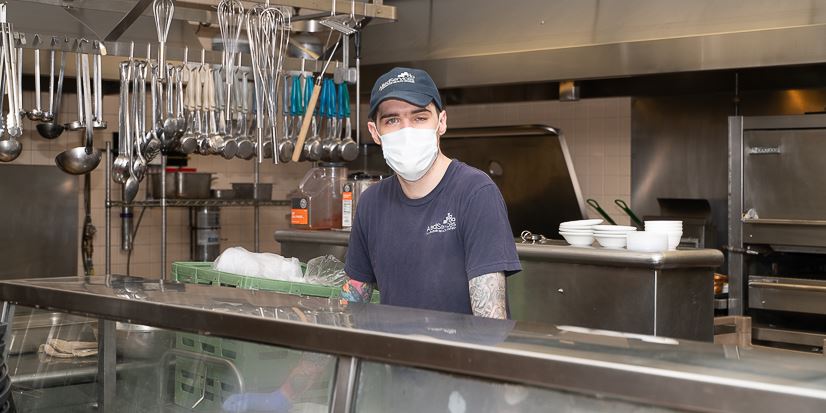 Rich started to learn in February of 2020 under the guidance of a veteran cook who has been at Allied Services in the dietary department for over 20 years. Starting small, he worked his way up to being able to prepare dinners with four or more entrées each.
"I like making pretty much everything that we have, although I hate making tuna casserole though" Rich says with a laugh.
Matt, Rich's friend and manager, has also been working with Rich since his arrival at the department.
"I give him and everyone else all the credit in the world" says Matt. "Rich has been doing great. When he's working, he will usually make over one hundred dinners with multiple entrées each. We cover the food services for multiple facilities, so it's a lot of work."
Rich is quite a hard worker. He usually works from 9:00 am to 5:30 pm during the week. He also works every other weekend, and offers to stay late or pick up overtime when the department is short staffed.
"Rich is always helping out. He works all the time, and has really been great with all of the changes we've had lately. He adapts very quickly to change, and for us, that's been extremely important. It has been incredible to work with Rich over the years and to watch him succeed. He's a great guy, and he's definitely an asset to the team."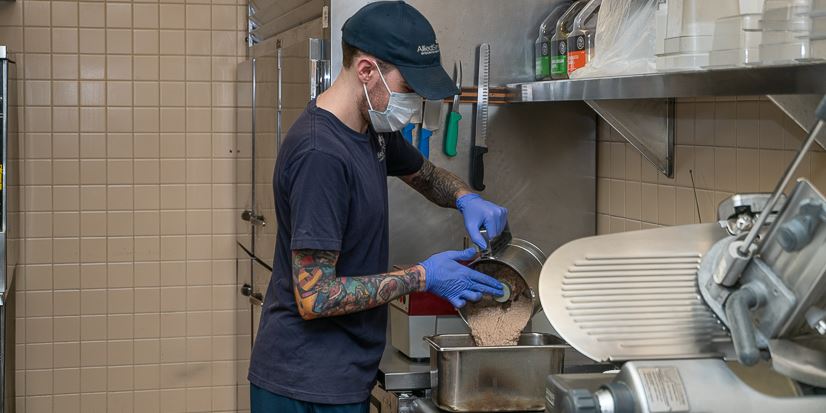 Food Service Jobs at Allied Services
Allied Services is seeking dietary aides, food service workers, and cooks to join their teams in providing quality nutrition to patients and residents. Explore full-time and part-time positions in Wilkes-Barre and Scranton by calling Tara at 570.348.1481 or filling out this short contact form.
Allied Services cares about your future. We want to see you grow your career. That's why we invest in your education. Learn about scholarships and more employee perks here.
Allied Services offers competitive pay rates commensurate with experience plus shift differential, excellent benefits package, preceptor-led orientation! Allied Services Human Resources Department, 100 Abington Exec. Park, Clarks Summit PA 18411. Call us today at 1-800-368-3910. Allied Services is an equal opportunity employer for people with disabilities. Bilingual individuals encouraged to apply.