Inspiring Future Caregivers: Roy's Story
Category: Career Spotlight
Posted On:
Written By:

Allied Services Integrated Health
Roy Harrity always expressed an interest in helping others, as most nurses do. After fifteen years of nursing, however, he realized his true purpose was teaching. A few years ago, Roy had the opportunity to return to Allied Services to fulfill his new calling and passion: teaching.
Roy is currently the staff development coordinator at Allied Services in the Skilled Nursing Center in Scranton, performing an essential role in orienting new nursing team members, ensuring the clinical competencies of the nursing team are up-to-date, and supporting the professional development of nurses at the facility.
Roy also serves as the CPR trainer and leads Certified Nurse Aide (CNA) training classes at the facility in Scranton.
"I love teaching," Roy said, "I love seeing people better themselves. I love seeing the 'lightbulb' go off when people finally understand something. I love seeing people improve their lives and the lives of their patients."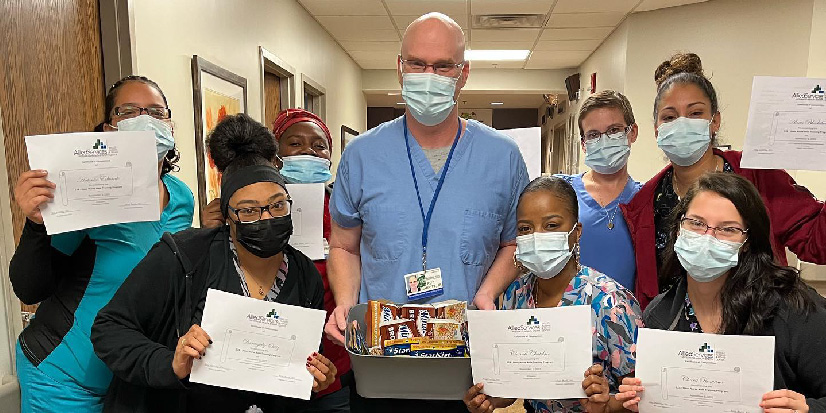 Roy with a graduating class of CNAs
Roy graduated from Penn State University Nursing Program in 2007, but prior to becoming a nurse, Roy worked at Allied Services as a resident assistant in the William Warren Scranton Residence - a residential treatment and support service facility for the intellectually disabled, known on campus as the 'dorm'. After becoming a nurse, Roy would stay at the dorm in a nursing capacity until 2009.
Roy returned to Allied Services as the Staff Development Coordinator in March 2020. In his role as teacher, he is helping others to become the best carers they can be by supporting his co-workers and teaching his CNA students the best techniques to help their patients.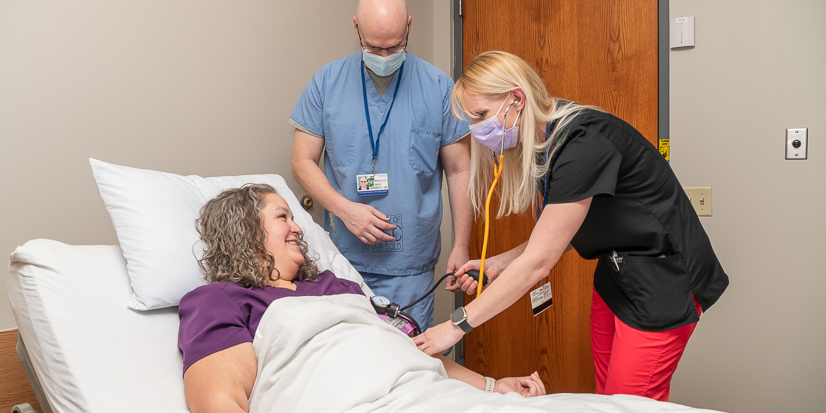 In the teaching lab with future CNAs
The road to becoming a CNA includes 127 hours of training - 46 hours of lectures, 35 hours of lab time, and another 46 hours of clinical experience. A CNA student must complete all the hours, the five quizzes, and the final exam. Once the student completes these with an average of 80%, they can begin caring for patients.
Roy helps his CNA students throughout this rigorous process, ensuring every student improves every day. He encourages his students to better themselves, thereby making the lives of each patient better as well.
Allied Services is best known for providing quality care and service to the community. Though, it is clear they're also invested in doing the same for their staff.
Through professional development programs like tuition assistance, student loan repayment, scholarships, and in some cases – tuition-free college, Allied Services helps employees like Roy to reignite or to find their professional passion.