Allied Services Occupational Therapist earns PhD in Strategic Leadership and Administration
Category: Career News
Posted On:
Written By:

Allied Services Integrated Health
Ann Romanosky, OTR/L, MHA recently earned her Ph.D. in Strategic Leadership and Administration from Marywood University, and while she says it's a relief to have finally crossed the finish line she doesn't feel her work is done.
"The whole thing about having a Ph.D. - and I'm thrilled to have my education - however, it's not just my education. I really look at a Ph.D. as a degree of service. My purpose, so to speak, is to make sure that what it is that I am doing with my degree is for the greater good. I had people help me along the way and now it's time for me to turn around and do the same."
Ann has been an occupational therapist with Allied Services for more than 25 years, serving in various staff and managerial roles. She has worked closely with the adult and geriatric populations for most of her career which inspired the topic of her dissertation: "The Foundational Predictors of Loneliness in Older Adults Living in Northeastern Pennsylvania with the Added Influence of COVID-19 Pandemic."
Ann earned her Bachelor of Science in occupational therapy from College Misericordia and then later her Master's in Health Administration from Marywood University. When she returned to Marywood for her Ph.D., 4 years ago, she decided to take the administration part a step further.

"I wanted to reach beyond the healthcare administration part to get a more global sense of leadership and the structure of administration."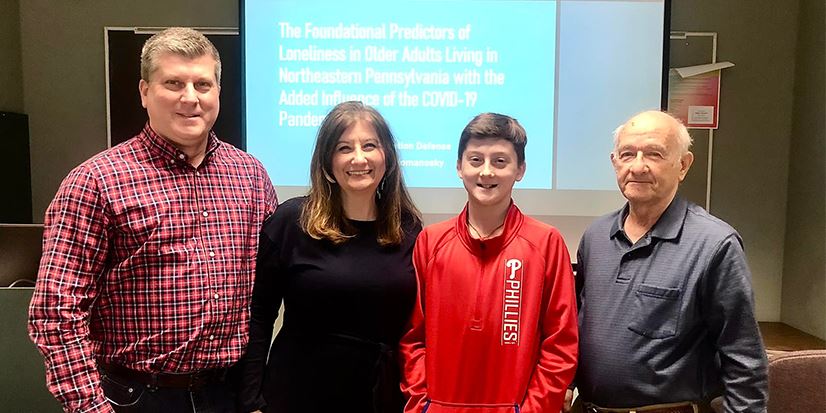 Ann with her family at Marywood University
When Ann returned to pursue her Ph.D., she was working full-time at Allied Services, going to school full-time, teaching as an adjunct professor at the University of Scranton, running a photography business on the side, and trying to be the best wife and mother she could be.
"As difficult as it was, it was a very good experience and it all worked out."
"I had a very nice cheering section! You can't go back to school or take another step in your life without some kind of support system in place. I had some co-workers and family that were very supportive and helped me through the process exponentially."
Ann found support from a co-worker who had gone through the process of earning her clinical doctorate. Another coworker supported Ann by regularly leaving inspirational and encouraging notes in her planner. The other mothers in her son's baseball group listened to her talk about Quantitative Statistics or help her connect to Wifi as they traveled for games so she could work on or submit assignments on time.
"From my family and friends to my work family - I'm so thankful that the people in my circle were very supportive."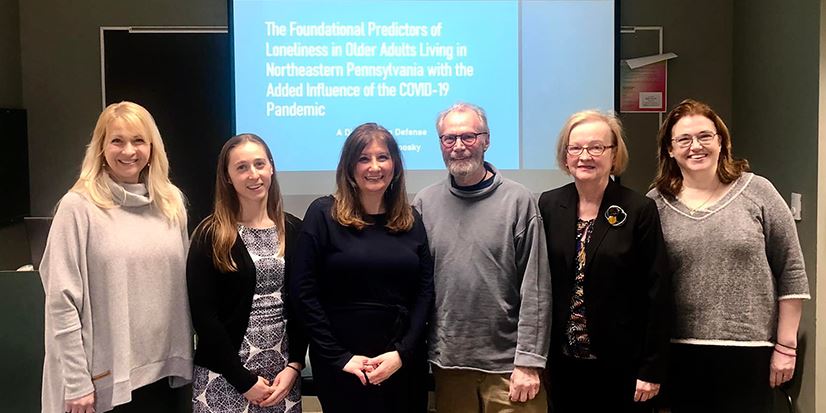 Ann with friends and colleagues
Now that Ann has successfully defended her dissertation, she's breathing a sigh of relief. She looks forward to keep the momentum going.
"I'm looking forward to service through research. When I'm not serving in the clinical sense I want to research and act on that research."
"My dissertation looked at what factors would influence loneliness levels for seniors in Northeast PA. I was able to identify certain things that would predict loneliness in this area. I didn't want to do research just to get a project done. I wanted it to mean something, so I'm working now to publish my research and I'm meeting with different people in the community to act on what we know and make change."