Hospice Volunteer makes pet owners dying wish come true
Caring for a much-loved pet is one worry that hospice patients can let go of. That's thanks to a national program, Pet Peace of Mind®. Allied Services Hospice & Palliative Care became an official partner of the program in 2021.
The program aims to enable hospice patients to keep their pets at home throughout their end-of-life journey without the added worry of certain costs of care or concern for their pet's future after they were gone. In addition, volunteers with the program help hospice patients with the practical aspects of pet care; walking, feeding, pet sitting, and even litter box maintenance.
As many pet owners and animal lovers know, there is a unique bond formed between pets and their owners. For many, this bond is family-like and, for some, pets are the only family they have. This was the case for a recent hospice patient.
Diane (not her real name) received Hospice care in the comfort of her own home for many months. In her final days Diane was transferred to Allied Services Scranton Hospice Center for continuous care. Her only wish was to die with her cats by her side.

"I received a call from Laura (Assistant Vice President of Hospice) that we needed to make this happen for our patient and I knew I had just the volunteer that could help," said Laurie Fleming, Volunteer Services Coordinator for Allied Services Hospice and Palliative Care. "I made the call to our volunteer Denise Mercer and with the help of her and a very caring neighbor - we were able to bring the cats to the center to be with the patient."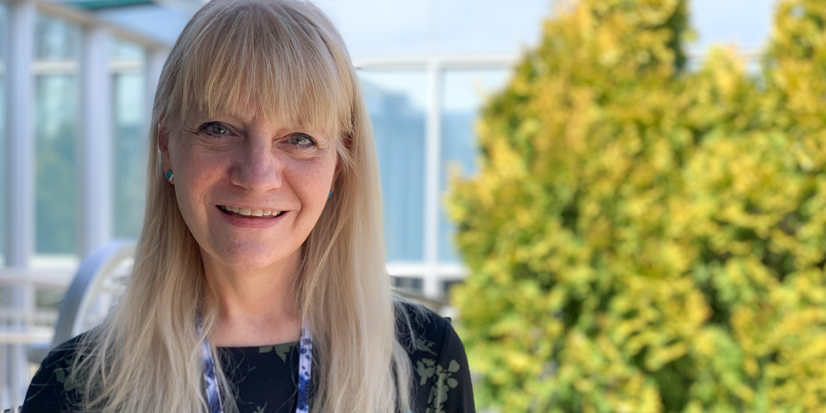 PHOTO: Hospice volunteer, Denise.
Once settled at the inpatient center, Denise and the patient's neighbor made sure the cats had everything they needed - food, water, their litter box, and even a little ottoman to help them get onto the bed.
"One cat would walk around the room, the other sat right there on the bed with her just like they did at home. I would help reach our patient's hand over so she could feel the cat sitting there with her. She wasn't awake, but I knew she could feel them there," said Denise. "It was so nice to see them all at such peace together."
Though their time in the Center was limited, in the end, the patient received her wish - to pass with her cats by her side.

"For us, this program goes beyond caring for pets. It's about patient care and making it better," said Laura Marion, Assistant Vice President Allied Services Hospice and Palliative Care. "And I'm excited to be part of a team that recognizes these finer details and strives towards excellence in overall patient care."

After the patient's journey, the cats were brought back home and arrangements made for placement in a new home. As part of the Pet Peace of Mind ® program, no pet enters into the shelter system. While the hospice program itself does not offer fostering or adoption services, we do provide assistance in finding a forever home for pets by working with local pet rescue centers and fostering groups.
Volunteering

If you would like to learn more about becoming a volunteer or supporting the Pet Peace of Mind ® program at Allied Services contact Laurie Fleming at
570-290-3285
lflemi@allied-services.org