Giving Back: Denise's Story
"I love the Terrace. I love working here. This is like my family and helping them is my passion."
We had a chance to talk with Denise P., Recreation Coordinator at Allied Services Terrace to see what she enjoys about her career and what has kept her here for 9 years! "I started my career in healthcare in 1994, and have had a variety of roles at different facilities. I've been an Assistant Administrator, Director of Resident Care, Supervisor, Personal Care Attendant, and a Certified Nurse Aide - but I love this one the most."
"I came to the Terrace in 2013. First as a personal care attendant and then I transitioned to recreation. Being able to be creative and see our residents happy not only puts a smile on their faces but mine too."
Providing activities for the elderly can be one of the most rewarding roles in a care home. As people get older, they are more prone to a decline in both their mental and physical health. Residents living in care homes can also have a feeling of isolation. A lot of this can be prevented or delayed through the effective use of various activities.
Activities play a vital role by bringing structure, purpose, fun, and social interaction into people's days - whether this is through physical exercise, social engagement, fulfilling hobbies, interactive games, sensory stimulation, or reminiscence.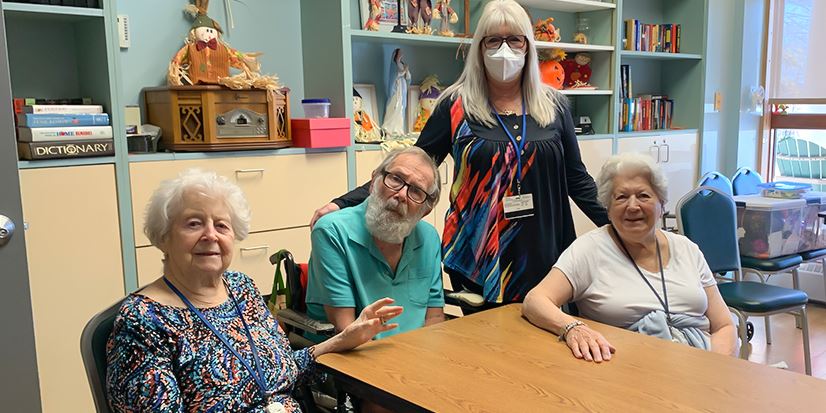 ​
Activity or Recreation coordinators are involved with all the aspects of choosing, planning, and carrying out activities and events for residents. They help make these activities a safe and enjoyable experience.
"I like to be creative; you're always taking care of them (residents) in some way or another, but in recreation, with the activities, it's more creative and fun. I'm always trying to get them involved, trying to get them to come out of their rooms so they don't feel alone."
"I create a calendar of activities for every month. Of course, we do the typical things like bingo and socials, and sure we watch movies, but like for instance we're doing something called 'Trip Around the World', where we watch shows about different places and we learn about the culture and create an activity around each place we 'visit'." "I'm constantly searching for things to do - visiting different websites to see what's new or if there is something that hasn't been done yet."
Coming Back After the Pandemic
"Everyone is still kind of coming out of their shell a bit after COVID. We weren't allowed to gather in big groups for such a long time, so our usual activities had to change or were canceled - that was hard on everyone. "
"I just want to see them smile. Most of these residents have taken care of people their whole lives. It's our turn to take care of them and the team here is incredible."
"A few years ago I was sick. I had cancer and everyone here helped me through it. The residents, and the staff, they were like a family to me and really helped me. They prayed for me all the time."
"I felt better when I was here. Sure, I had days that were a struggle, but being here, and the prayers from everyone , I was able to be ME when I was here, not just my illness."
"I want my residents to feel the energy I did. When I came here - when I came to work when I had cancer - it changed my world for just that bit that I wasn't home, so if I can get them out of their rooms, or we can take a day trip somewhere and they can smile and feel that joy - I want to be able to do that for them."
Explore Jobs at Allied Services
We know that our employees are at the heart of everything we do. They're what makes our health system better for everyone.
Whether you're looking to start your career in healthcare, take your career to the next level, or earn a little extra in your spare time, look no further than Allied Services. We're currently hiring for all positions and are offering attractive sign-on bonuses, competitive rates, scholarship opportunities, tuition reimbursement, generous benefits packages, and more.