Judith R.
Author: Judith R.
Date Submitted: Jan 29, 2019
Category: Guilaine Barre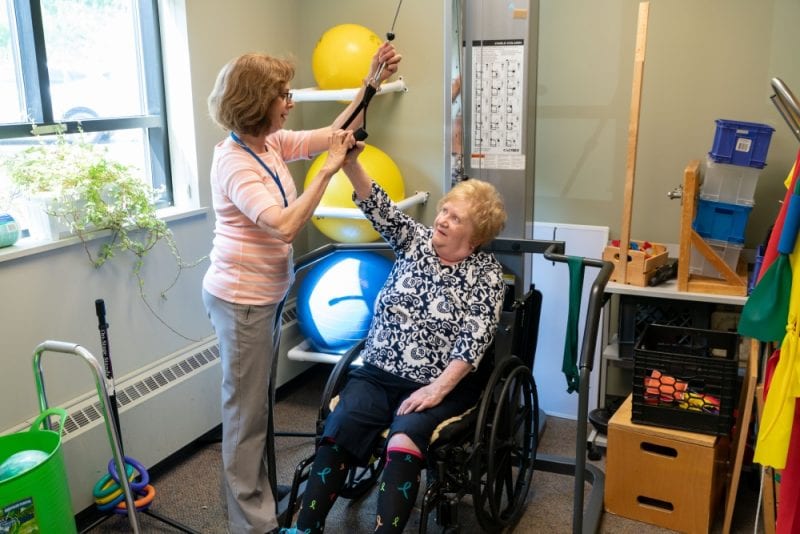 Judith R., who one may easily mistake for a movie star, is our fabulous patient from West Scranton. Thirteen years ago, Judy got her annual flu shot in an effort to remain strong and healthy. However, the vaccine had the opposite effect. Her immune system attacked itself, resulting in a syndrome known as Guillain-Barré, an illness characterized by progressive muscle weakness and sometimes even total paralysis. After going through therapy at Allied Services, Judy was back to being completely independent.
However, in 2016 the illness struck again, causing significant weakness in her arms, hands, and torso. After a three-month hospital stay, Judy was transferred to Allied Service's Skilled Nursing and Rehab Center for six months. Since being discharged, she has been religiously working toward regaining functionality, mobility and independence at the Luger Rehab Center in Scranton. She and her occupational therapist, Iris, focus on fine motor functionality by using electrical stimulation on her hands, as well as practicing previously-considered simple, daily tasks such as picking up pennies and putting them in a coin jar. Judy also attends pool therapy weekly, and physical therapy with therapists Christine and Wally twice a week.
Her occupational therapist, Iris, tells us that Judy is an amazing role model for other patients, as she diligently completes her homework every night. She understands that the key to progress lies in achieving a happy medium of going above and beyond what is done in therapy, while also being aware of her limitations.
She has managed to go from completely paralyzed to being able to walk 200 feet unassisted with her walker. Her adamant motivation has guided her onto a path of steady improvement that we do not expect her to stray from any time soon.