John T.
Author: John T.
Date Submitted: May 26, 2022
Category: Inpatient Rehabilitation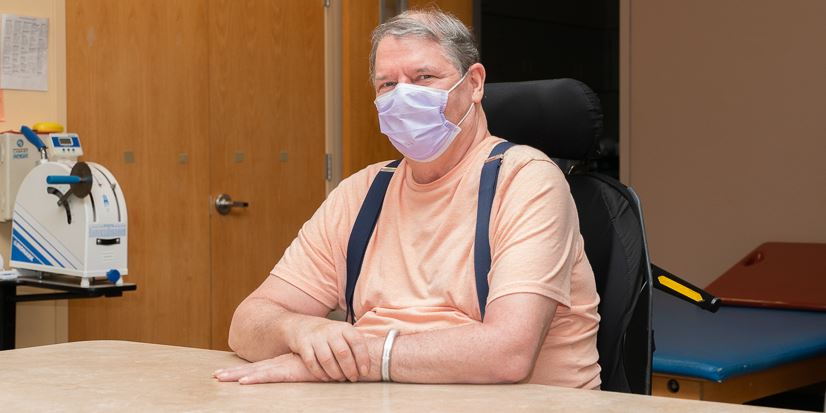 A Mysterious Illness
John T, the president of local manufacturing giant Trion Industries, woke up on a Saturday morning in July 2021 and thought he had suffered from a stroke. He decided to stay home and try to sleep off his condition. The next day, he was in an ambulance on his way to the hospital.
John was suffering from Guillain-Barré syndrome, an immune system disorder that attacks and weakens the nerves in a person's limbs.
John was released from the hospital that evening but later collapsed outside his home. John's symptoms worsened and on Tuesday, he was sent back to the hospital.
John stayed in the hospital for ten days while his nerves rapidly weakened. His condition worsened as the days went on to the point where he was intubated and moved to Geisinger East Mountain. While in Geisinger's care, the medical professional on-site performed a spinal tap on John.
Hazy Transitions
John's Guillain-Barré was accurately identified thanks to the spinal tap. He began receiving appropriate treatment, about two weeks after his symptoms began. The first delay came in the lead-up to diagnosis, and a further delay was mounted as doctors fought to stabilize his breathing.
The timeline of events started to blur for John as he was transferred to different hospitals in central and eastern Pennsylvania throughout the late summer and autumn of 2021. He relied on his girlfriend to fill in the gaps in his memory of the experience, which included a feeding tube, almost no movement below his neck, and a transfer to Good Shepherd Rehabilitation Hospital in Allentown.
When the hospital time his insurance granted him evaporated in December, John was sent home. It did not take long for the medical professionals tasked with keeping an eye on his condition to recommend a return to the hospital. However, this was delayed due to the holiday season. John's girlfriend, Vonda, again came to the rescue and stayed by his side as he waited.
Finding Allied
John arrived at the Scranton campus of Allied Services in January. The average length of stay for a patient at Allied Services Scranton Transitional Rehab Unit is between 10 and 14 days.. However, John was severely debilitated and faced a long recovery.
John's arrival at Allied Services allowed him to return to a more hands-on role in Trion's affairs, albeit in a largely remote format. Business at Trion had carried on through his absence, but advisors have come to see him for meetings. It helps that Vonda is the vice president of operations at Trion and has been John's eyes and ears in the factory while he's been away.
John receives an hour of physical therapy and an hour of occupational therapy every day while he rehabs at Allied Services. Throughout his time at Allied Services, John has learned to use a walker and has become more comfortable performing everyday tasks.
While at Good Shepherd, John was able to use a Zero-G gait and balance system one time. These cutting-edge devices allow patients to gain their walking strength back at their own pace. At Allied Services, John used the Zero-G machine during his second week at the facility with mixed results.
John's performance with the Zero-G machine progressively improved, and his proficiency with the device served as a microcosm for his overall progress.
Forming a Bond
Because John has been at Allied Services for longer than most other patients, the bond he has formed with the therapists is powerful. As his progress became apparent, the therapists noticed and applauded – both literally and figuratively – his incredible rehabilitation journey.
John has stayed motivated by the generosity of the people he has encountered at Allied Services and his drive to walk once more. Guillain-Barré is somewhat inconsistent in its attacks, but most people make a full or semi-full recovery.
Consider the progress that has been made in John's narrative. He went from crawling into his house to struggling with the Zero-G machine to resuming his daily activities as a manufacturing leader. John's story contains the elements of all great recovery stories, and that triumphant, healthy conclusion appears to be right around the corner.