Ed J.
Author: Ed J.
Date Submitted: Oct 6, 2017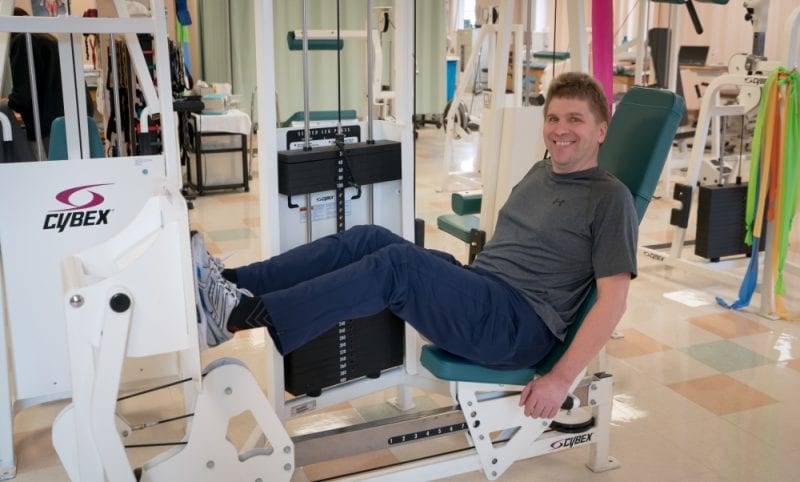 "The technology was really amazing" noted Ed.
Sunday, November 6th, 2016, was a typical Sunday for Ed J. from Bear Creek. He and his wife Kathy and twin boys, Edward and Dylan went to church, ate lunch and spent time together. Throughout the day, Ed noticed an odd tightness in his calves but thought he'd just been over zealous the previous day. By the next morning, Ed was finding it increasingly hard to move. He got his sons ready, drove them to school and then took himself to a local urgent care facility. A few hours later, he was transferred to the emergency room at Geisinger Wyoming Valley Hospital.
What started as some tightness in his calves had now taken over his entire body. By the time Ed arrived in the ER, he was almost completely paralyzed. After several tests including a spinal tap, he was diagnosed with Guillain-Barré Syndrome (GBS), a rare disorder in which a person's own immune system damages their nerve cells, causing muscle weakness and sometimes paralysis. GBS can cause symptoms that last for weeks, and while most people recover fully, some experience long-term nerve damage.
Many things can cause GBS; about two-thirds of people who develop GBS symptoms do so several days or weeks after they have been sick with illnesses like the flu or other infections. On very rare occasions, they may develop GBS in the days or weeks after getting a vaccination. In Ed's case, he did receive the flu vaccine in September, but was also stricken with "mono" (Epstein Barr virus), shortly after receiving the vaccine.
After a week-long stay in at Geisinger Wyoming Valley Hospital, Ed was transferred to Heinz Rehab Hospital in Wilkes-Barre. He had minimal use of his limbs. Lying or sitting down, he could only move his legs an inch or two. The diagnosis and recovery was challenging for Ed and his family, especially during the holidays. His wife and children delayed their Christmas celebrations in the hope that Ed would be able to celebrate with them at home.
Over the next six weeks, Ed went through the process of learning the basics of sitting, standing, and walking all over again. With the help of his therapists and advanced rehabilitation devices such as the Zero-G and Reo, Ed regained full use of his arms and legs, eventually moving to the Transitional Care Unit at Heinz Rehab Hospital before being discharged to home.
"The technology was really amazing" noted Ed. "Take the Reo. You can use it in a passive setting at the start, where it does most of the work for you, and as you improve, it adjusts and lets you initiate movement. Or the Zero-G. At the start, you're not bearing any weight, but as you get your strength back, the therapist can adjust it so that you're bearing more weight. The therapists were incredible and gave you that confidence, that reassurance that you will get back to your life."
Following his rehabilitation in Heinz Rehab Hospital and Heinz Transitional Rehab, Ed returned home, continuing to build his strength and range of motion through outpatient therapy at Allied Services. He is thrilled to back home with his family, and is looking forward to returning to work in photography and photo re-touching at his family's business, Lyons Photography in Wilkes-Barre.