Gabby & Olivia T.
Author: Gabby & Olivia T.
Date Submitted: Jan 14, 2015
Category: Sports Medicine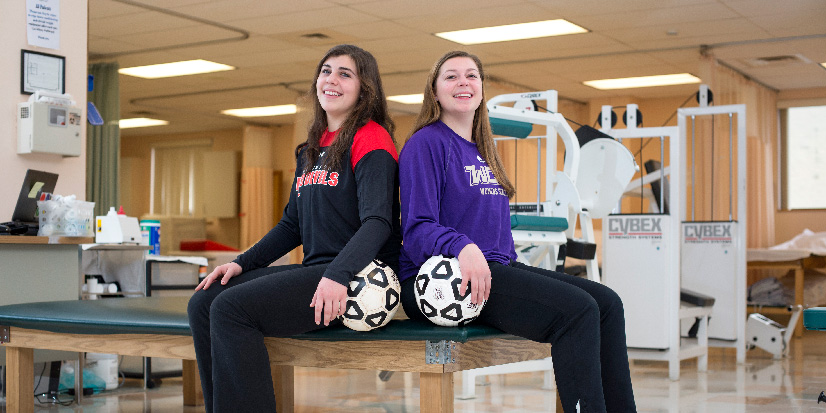 Two sisters of Mountain Top have always been competitive. From youth soccer and scholastic achievement to community service and volunteerism, Gabby and Olivia always put 100% effort into succeeding.
What they never realized was how beneficial their competitive nature would be in recovering from not one or two, but three knee injuries.
In May of 2012, Olivia T. was a freshman at Crestwood High School competing in volleyball, basketball and soccer. During a soccer playoff game, she collided with an opponent, striking her knees and causing her ACL to tear.
Her parents immediately sought an orthopedic surgeon with an exceptional reputation with professional and amateur athletes. They entrusted Dr. Thomas Meade of Coordinated Health with Olivia's surgery, and following a successful operation, they sought out a rehab facility and physical therapist whose expertise, passion and success with athletes matched Dr. Meade's.
Olivia began physical therapy with Theresa Stook, DPT, at Heinz Wilkes-Barre Rehab Center for Sports & Spine Medicine. Through a rigorous therapy protocol, Theresa worked toward the goal of getting Olivia back to the sport she loves.
Physical therapy was challenging, yet extremely beneficial for Olivia. Her older sister, Gabby, supported her efforts, yet always challenging her as a sister would, to achieve her best, whether in therapy or on the field. After six months of physical therapy, Olivia was cleared to return to soccer and her active lifestyle.
Just 3 months after Olivia's injury, Gabby was injured during a preseason soccer scrimmage. She continued to play soccer with a partially torn ACL for another three months, but eventually she had to give up not only soccer, but also basketball and track.
In September 2012, the family turned to Dr. Meade to perform Gabby's ACL surgery. After witnessing her sister's quick, successful recovery, Gabby chose to undergo sports rehab therapy at Heinz Wilkes-Barre Rehab Center. She requested Theresa as her therapist and joined her sister in the challenging process of physical rehabilitation. The girls bonded, sharing the highs and lows of rehab.
After nine months of rigorous sports therapy, Gabby was able to return to the soccer field and the sport that has been part of her life for the past 15 years.
That would've been enough surgery and rehabilitation for any family; however, in April of 2014, Gabby suffered her second major injury. While playing for the FC Bucks ECNL team in California, she twisted her left knee and heard a horrible, familiar sound. Gabby soon learned that she had torn the ACL in her left knee.
Once again, Gabby turned to Dr. Meade and Allied Services to get her back in the game.
Dr. Meade repaired her second tear in May of 2014, just in time for this young scholar-athlete to attend graduation on crutches.
Over the course of three years, Dr. Thomas Meade surgically repaired all three ACL tears for the two sisters and Theresa Stook, DPT, supervised their physical rehabilitation and recovery!
Today, the sisters are excelling on and off the field as student-athletes. Gabby is now a freshman at West Chester University having earned a scholarship to play soccer. She is studying to become an Athletic Trainer. Olivia is a senior at Crestwood High School and has recently committed to Dickinson College to play soccer and study Environmental Studies. She has aspirations to one day become a lawyer. With a history of overcoming obstacles and a relentless, competitive drive, their goals on and off the field are sure to be achieved!