David c
Author: David C.
Date Submitted: Mar 12, 2019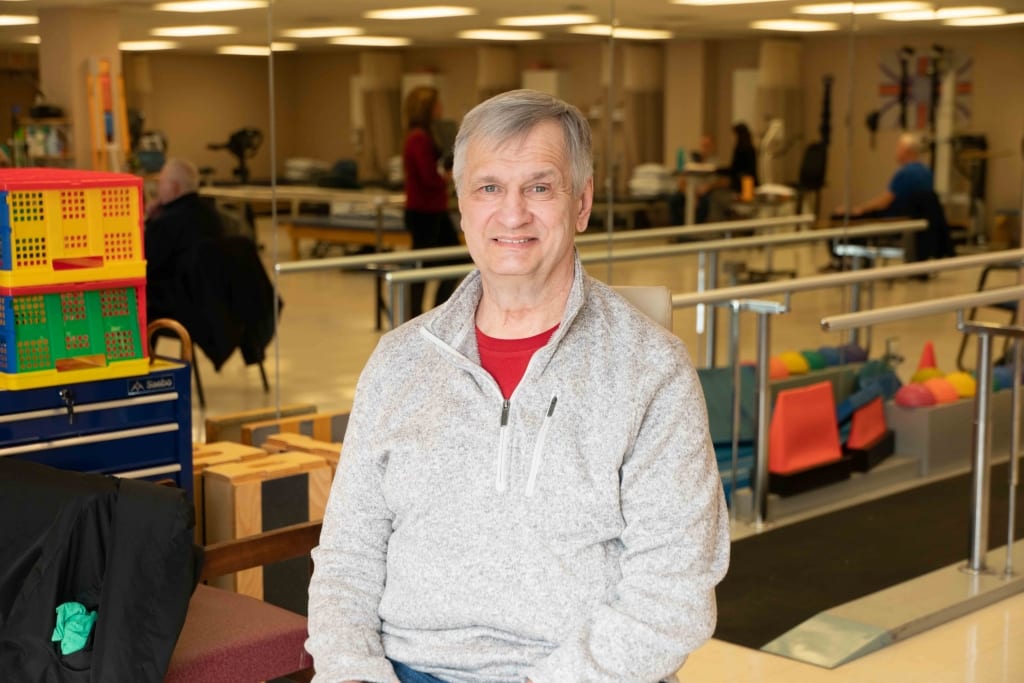 April 25, 2018, started off as a normal day. David C. of Wilkes-Barre was at home doing some yard work. After he put his tools away, he walked back to his house. "I began to notice I was walking strangely and could feel myself going numb. I knew then that I was having a stroke."
His wife took him to the hospital where brain scans were performed. David was discharged by his doctor after a couple of hours, only to return to the hospital that same day. When he returned, another doctor looked at his scans and determined that he never should have been released from the hospital in the first place. He had suffered a catastrophic stroke throughout his entire brain. The stroke left David unable to walk, talk, or use his arm.
David remained in acute care for three weeks before moving to a nursing home. After the nursing home, he was able to go home and engage in outpatient rehab. He says his biggest obstacle to overcome was walking again. Throughout his time at the nursing home, David says he never complained, and two days prior to his release, David was told he had the right attitude for recovery.
He insisted that he continue his recovery with outpatient rehab at the Heinz Rehab Center in Wilkes-Barre. David distinctly recalls how when he was young, his neighbor, Mildred, suffered a stroke. She had chosen Heinz for her rehabilitation. She sang Heinz's praises to David's parents, saying it was "…a God-send that Heinz is local."Mildred's positive experiences resonated with him, playing a large part in his decision to choose Heinz Rehab Center.
Part of his outpatient rehab included the use of ReoGo, a robotic device to assist in rehabilitation of the upper extremities. ReoGo uses challenging yet functional games to help retrain the brain. David began using the device after he came in and mentioned to his therapists that he was experiencing some stiffness in his arms. Since using ReoGo, David says his arm and shoulder are healthier; he has no more discomfort in his arm. Because of ReoGo, he has regained his ability to grasp, allowing him to engage in activities of daily living such as washing, dressing, and feeding himself.
David heavily credits his therapists for getting him to where he is today. "Neil and Lori instilled a drive in me to never give up." He says they really tailored his recovery process to his abilities. In the future, David plans to regain full function and mobility. "I don't want to look back, I want to look forward. Even with my handicap, I still excel."