Ann Marie's Story: Bouncing back after hip replacement surgery
Ann Marie C of Dunmore is a cancer survivor and proud grandmother of 11. She recently had a total hip replacement due to arthritis and chose Allied Services for her post-operative rehabilitation.
Shortly after Ann Marie C.'s discharge from the rehab hospital in early December 2021, the team at Allied Services in Scranton received a call from her husband, Casper, to discuss her stay.
"I believe in giving credit where credit is due and each and every person at that facility is exceptional. Every nurse, every aide, and every therapist - even the receptionist went above and beyond to make my wife feel important. They even made me feel important," said Casper.
Following surgery, Ann Marie was admitted to Allied Services Scranton Rehab Hospital. The inpatient rehab hospital offers a comprehensive joint replacement rehab program. Over the course of two weeks, the knowledgeable therapy and nursing team helped Ann Marie regain her strength. Before she returned home, they provided instruction for her family on how to move safely around her home as she recovered.
"When they were caring for my wife, they took care of her like she was the only person in their world," said Casper. "I tell you, we just can't say enough about them
On average, the initial recovery after hip replacement can take two to four weeks, or even more, but everyone is different. It depends on a few factors, including but not limited to - how active you were before your surgery, your age, nutrition, pre-existing conditions, and other health and lifestyle factors.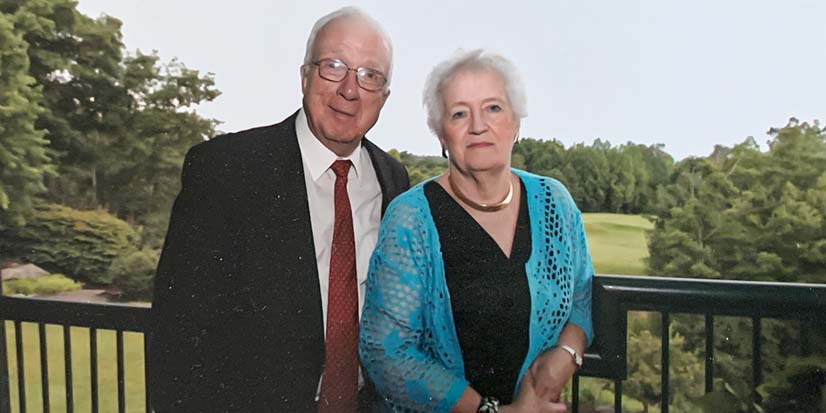 ​
Photo ID: Ann Marie with her husband, Casper.
Ann Marie was quite active and independent prior to having her hip surgery and looks forward to getting right back to it. "I love driving. I can't wait to do that again," noted Ann Marie. She also enjoys her swimming classes at the local JCC and spending time with her grandchildren!
Ann Marie is somewhat of a miracle cancer survivor. In 2017, after a routine visit, doctors found several areas of cancer throughout her body - lung, bone, brain, and uterine. Two of the many masses were also stage 4. This diagnosis was devastating but thanks to a brilliant team of doctors, advanced treatments, and as Casper says "family and a lot of prayers," Ann Marie is doing well today. He notes Ann Marie's cancer is not curable, but it is treatable.
Ann Marie is continuing to recover from her recent hip replacement at home is gaining strength every day. She will return to Allied Services Dunmore Rehab Center to continue her rehabilitation in the coming weeks.