Improved Outcomes in Neurological Rehab Using Advanced Technology
Allied Services is dedicated to achieving the best possible outcomes for our patients. That means providing access to the most qualified, experienced, and caring clinicians. It also means maintaining a focus on advancements in technology that can benefit patients.
Advanced Neurological Rehab at Allied Services
Over the past 15 years, Allied Services has invested heavily in rehabilitation technology with the goal of providing patients with access to devices that, along with guidance from our expert clinicians, can give patients the best possible outcomes in therapy. Advances in mainstream technology are being used to help neurorehabilitation patients survivors achieve faster, fuller recoveries. Features such as virtual reality, robotics, bio-feedback and zero gravity can deliver highly focused, intensive, and motivating therapy that stimulates the brain.
These cutting-edge rehab technologies and many others are available as part of the comprehensive neurorehabilitation program found at Allied Services.

The Bioness Integrated Therapy System (BITS®) is intended to evaluate and improve abilities in individuals with disabilities resulting from traumatic injuries and movement disorders as well as improve performance in competitive athletes. BITS is a multi-disciplinary therapy solution designed to motivate patients and improve clinician efficiency. BITS' interactive touchscreen and diverse program options challenge patients to improve performance through the use of visual motor activities, visual and auditory processing, cognitive skills, and endurance training.

Funded by the Christopher Reeve Foundation, the FES RT 300 Leg Cycle combines some of today's most advanced technologies in treating neurological damage and restoring motor functions to formerly paralyzed muscles. It delivers electrical currents which stimulate the leg muscles in order to provide the patient with regular patterned activity. The FES RT 300 Leg Cycle allows patients with spinal cord injury to rebuild significant muscle mass and bone density while also improving cardiovascular functioning. This technology has even gone as far as restoring mobility in some cases of injury.

The Hand Mentor is among the growing list of neurorehabilitation technologies available to assist individuals with neurological disorders reach their maximum functional recovery. The Hand Mentor provides robotic-assisted therapy for patients with loss of function of the wrist and hand who are recovering from a stroke or brain injury. The Hand Mentor helps restore range of motion and strengthen muscles, reduce muscle tightness and reduce muscle tone. The patient performs task-oriented activities through the use of a computer program that provides visual biofeedback to the patient helping enhance performance.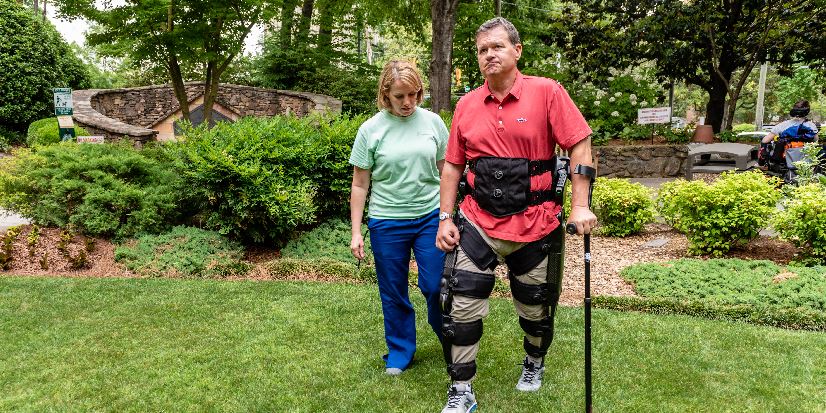 ​
Indego Exoskeleton is a wearable device that enables a patient to stand. Indego Therapy is a lower-limb powered exoskeleton that enables therapists to deliver task-specific, over-ground and individualized gait training. Sophisticated motors in the hip and knee joints, combined with advanced sensors and an intuitive software system empower patients to stand and walk over a variety of indoor and outdoor surfaces. Research shows that task-specific, over-ground gait therapy leads to better results than harness-based or treadmill-based therapies. Indego® Therapy enables individualized gait therapy for patients with lower extremity weakness or paralysis (such as complete/incomplete spinal cord injury and stroke). Indego's lightweight, modular, and quick-adjust design allows clinicians to offer intensive gait therapy, custom-tailored to patients across the entire continuum of care – from inpatient facilities to in-home sessions and everything in between.
The Neurocom EquiTest at Allied Services is considered the "gold standard" system for the diagnosis and treatment of balance disorders. The results are used to identify the most effective treatments to restore balance and stability, not just for patients with chronic or age-related balance problems, but also for those who are recovering from a stroke or brain injury, or managing multiple sclerosis or parkinson's disease symptoms.
The ReoGo is an innovative robotic device that is used to help patients who have suffered from strokes or other neurological injuries. Specifically designed to aid in the rehabilitation of upper extremities, the ReoGo combines patient-specific exercises, a customizable interface, and challenging yet functional games that facilitate movements to essentially retrain the brain. As a robotic-assisted device, the ReoGo provides up to ten times more repetitions per session than an average non-robotic treatment, thereby improving recovery and treatment outcomes.

The SaeboFlex is a custom orthosis that allows patients the ability to incorporate the involved hand in functional reaching exercises in therapy and at home by supporting the weakened wrist, hand, and fingers. The brace attaches to the forearm, hand and fingers and assists with release during grasp activities.

The Saebo MyoTrac Infiniti is a neuromuscular electronic stimulator designed specifically for pediatric patients with cerebral palsy and brachial plexus injury. Its comprehensive, portable, biofeedback electrical system triggers stimulation programs along a revolutionary foot drop technology. The biofeedback allows the clinician to analyze how much strength and control the patient has, without having the patient verbally express it. The technology helps children gain strength and awareness of muscles affected by neurological injury.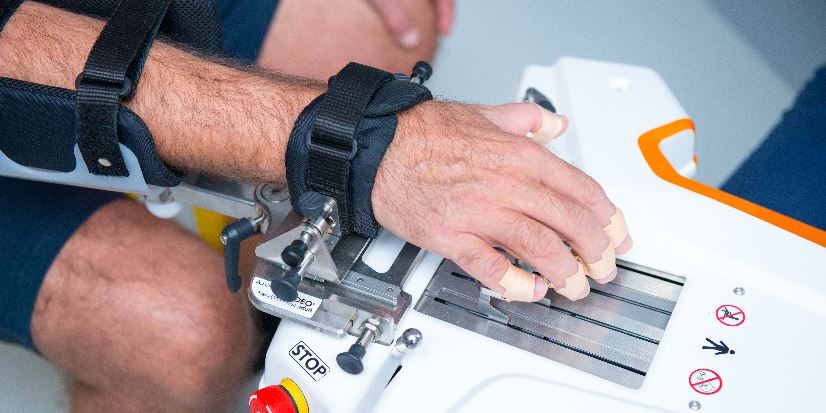 ​
The Tyromotion AMADEO is the latest in a long line of clinically tried and tested robotic- and computer-assisted therapy devices for fingers and hands. The new design and the specially developed tyroS software make the AMADEO more flexible and offer an expanded spectrum of therapy options. Thus, the AMADEO is the most advanced robotic-assisted finger-hand therapy device world-wide. The AMADEO is suitable for all phases of finger-hand-rehabilitation. The AMADEO can be adapted to the needs of each individual patient. Small or big hands. All or single fingers. For neurological, orthopedic and pediatric applications. In cases of limited mobility of the fingers, specific exercises on the therapy device help improve motor- and sensory functions. The finger movements stimulate the brain and thus the neoformation of synapses.

The Tyromotion DIEGO relieves the therapist and the patient of the difficult motion guidance of the arms. Because of its overhead construction, DIEGO is easily accessible from all sides and thus offers space for a qualitative therapy of arm-and shoulder motor function. With DIEGO, you have room for motion, which is why the arm-shoulder rehabilitation device is particularly suited for task-oriented training with real objects. However, DIEGO doesn't only
Find expert Neuro Rehab at Allied Services
If you think you might benefit from the use of one of these rehab technologies consult your physician who may provide you with a prescription for an evaluation at Allied Services. For specific questions on how to obtain a referral, please call 570-826-3900 (Wilkes-Barre and the surrounding areas) or 570-348-1360 (Scranton and the surrounding areas).