Wilkes-Barre Woman Battles Cancer, Lymphedema, and Discovers a New Career
"In 2020, I had gone for my annual mammogram and that's when they found it. I had cancer."

We had a chance to talk with Bonnay J. of Wilkes-Barre about her ongoing battle with breast cancer, how things have changed, and what keeps her moving.
"It was Valentine's Day 2020, and I had gone in for my routine mammogram when they found the cancer. It was a little spot about the size of an M & M candy. I got it treated, but then in March of 2022, during another routine mammogram, it was back."
"I have triple negative breast cancer, so if it doesn't come back for 5 years, you beat it - but so far, mine keeps coming back."
According to the American Cancer Society, triple-negative breast cancer (TNBC) accounts for about 10-15% of all breast cancers.
Triple-negative breast cancer can have the same signs and symptoms as other common types of breast cancer, but what makes it different is inside its cells. Once detected and biopsied, the cancer cells are checked for certain proteins and hormones. If the cells do not have estrogen or progesterone receptors, and also do not make any or too much of the protein HER2, the cancer is considered to be triple-negative breast cancer.
"The first time around, in 2020, I had surgery and chemotherapy. This time I had surgery and radiation. And thanks to my AWESOME team of doctors and nurses while I was going for radiation - they found that I had lymphedema and they were able to help me to Allied and Diane so I could get treatment."
Finding the Best Care For Lymphedema
Lymphedema is the term used when your lymphatic system doesn't work well. Your body accumulates fluid and begins to swell. The swelling typically affects your arms and legs, but it can affect other areas of your body, too. Lymphedema also increases your risk of developing an infection where you have the condition.

Lymphedema can be a side effect of breast cancer surgery or radiation therapy. Surgeries can cut off or damage some of the nodes and vessels that make up the pathways that lymph moves through. The risk of radiation-related lymphedema is highest in people who receive radiation directly to the underarm because it's where most of the lymph nodes are located.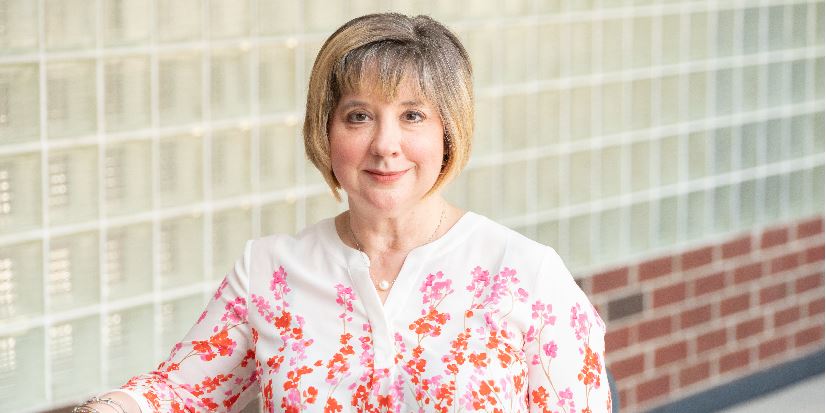 Diane Jason, OTR/L, CLT/LANA works with patients at Allied Services Wilkes-Barre Rehab Center.
"Bonnay was referred to our Lymphedema Management Program due to lymphedema in her left upper extremity and left chest wall. Being a cancer survivor, Bonnay had undergone extensive surgeries and treatments, and her swelling was impacting all functional activities."

"The Lymphatic Management Program is an intensive program that combines many different treatment approaches, including bandaging, compression garments, manual lymphatic drainage, exercise, and self care."
Allied Services has the area's most experienced therapists for the treatment of lymphedema. Our credentialed therapists have experience in managing lymphedema and its complications from mild to very severe. Our staff has advanced training in manual lymph drainage and bandaging techniques. Our experienced therapists provide Complete Decongestive Therapy (CDT), a comprehensive lymphedema treatment.
for care in Scranton call 570.348.1360
for care in Dunmore call 570.207.8700
for care in Wilkes-Barre call 570.826.3900
"Bonnay was dedicated and embraced the Complete Decongestive Therapy protocol with excellent results. By discharge, she was able to apply and remove her compression sleeve and gauntlet. Along with a compression bra with a foam insert. Most important is that she was able to return to work in a new position as a recreational aide."
Seven months after her second diagnosis Bonnay was able to return to work, but with a bit of a twist. Bonnay had been a housekeeper at Allied Services Meade Street Residence for years.
"As stubborn as I am, my age and the cancer were catching up with me and I just couldn't do all the things I used to."
That's when her work family (as she calls them) asked if she would like to try being a Recreational Aide.
Discovering a New Career
"Bonnay is just such a wonderful person. The staff and all the residents love her, we just couldn't lose her. If it wasn't in recreation, we would have found something or made a position for her. She really is an asset to our facility," noted Christine Ondish, LPN, PCHA, administrator of Meade Street Residence.
Recreation assistants devise and implement recreational activities under the direction of a recreation manager. They help with planning, setting up, and leading activities.

"It's been wonderful so far and when we are doing the exercise activities, I always tell the residents, 'I need this just as much as you, let's go", and they get a good chuckle."
"I'm still going through treatment and my doctors are watching me closely, so I'm staying positive and being at work and being active helps keep my spirits up too."
"You know cancer can be a very lonely thing - especially during COVID, but I had God and everyone here. I really can't say enough about all the residents and staff - everyone is so awesome; they really are like my family."