More Than a Marathon - Running With Purpose
Posted On:
Written By:

Allied Services Integrated Health
On November 7, 2021, the 50th running of the TCS New York City Marathon will take place. When the starting gun goes off, runners from around northeastern and central Pennsylvania, and around the United States, will be there as part of a charity team called WNEP's Team Allied Services.
Formed in 2010, WNEP's Team Allied Services is a charity campaign led by Newswatch 16's Ryan Leckey. The campaign combines a love of running with a passion to make a difference. As runners train for this legendary road race, they raise funds and awareness for children and adults with disabilities at Allied Services, a non-profit health system. Over the years, the campaign has enabled Allied Services to invest in cutting-edge rehab technology such as the Zero-G, a gait training system that helps people recovering from a stroke, spinal cord injuries, and other life-changing events, get back on their feet.
Over the past 11 years, more than 250 runners have represented Allied Services and WNEP's Team Allied Services in the marathon. The team consists of runners of all ages and abilities. For many, it is a once-in-a lifetime experience:
"This was one of the best experiences of my life" says Priscilla C, a past member of the team.
During the course of the campaign, Priscilla learned more about Allied Services and the individuals and families who benefit from the charity campaign.
"I was thrilled by how much I raised and so appreciative of all those that donated. Hearing that total at the end brought a tear to my eye knowing how many people will benefit from this money" says Priscilla.
For runners looking to run the TCS New York City Marathon, running as part of a charity team can enhance the experience, and add more meaning to their training.
"It's not one thing that made my experience significant. Feeling the impact is huge. Hearing from people this year who were directly impacted yet also thankful for what we were doing really brought it full circle" says Eric P, a two-time member of the team.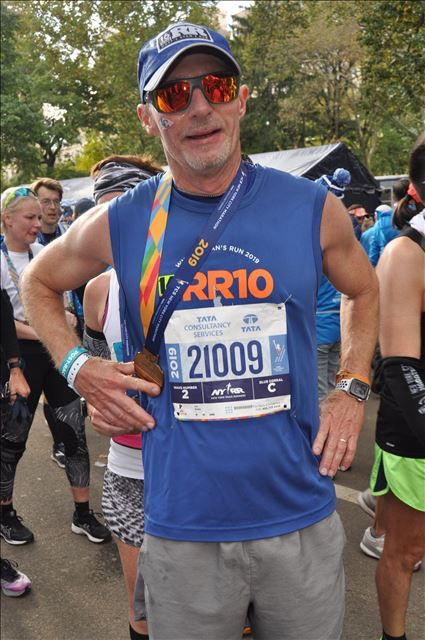 Eric P at the finish of the TCS New York City Marathon in 2019
Members of the charity team receive support with their training and fundraising, including a customized training plan, an online fundraising page, incentives for donors to give, and materials that highlight the communities who benefit from the campaign.
"I really enjoyed meeting so many new people from around the area. I thought by the end of the campaign I'd be so tired from training and fundraising that I'd be relieved and happy it was over. But it was the total opposite. After the check reveal, I was super sad and let down that it was all over. I think that says a lot!" says team member, Stephanie C.
To learn more about how you can become a member of the team in 2021:
Read our RUN WITH US page
Contact Charlotte Wright at 570-348-1275 or cwrigh@allied-services.org