Vicki S.
Author: Vicki S
Date Submitted: May 16, 2023
Category: Spotlights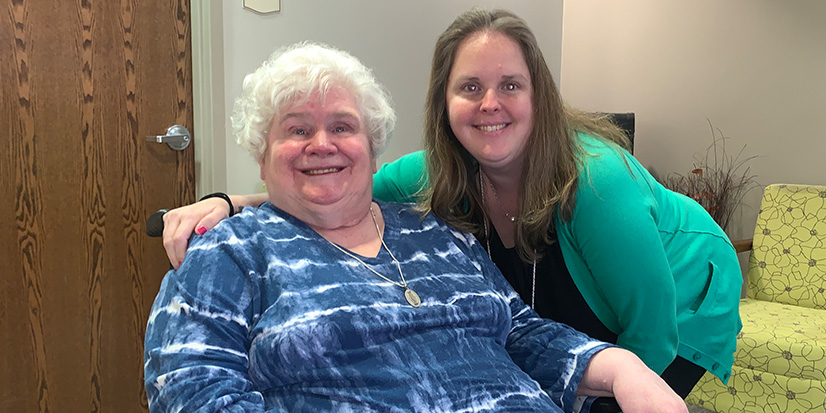 " "I really do enjoy it here. I don't have any more worries. I feel safe, and my family knows I'm happy and safe right here!""
People do not often choose to be in a nursing home, but Vicki knew she was in the right place when she came to Allied Services Skilled Nursing Center in March of 2022.
"Honestly, I love it here. The day I came I said I was never leaving," noted Vicky S.
Vicki lived most of her life in Throop, PA. She spent nearly ten years working for a local senior daycare facility, where she helped fellow senior citizens with activities like arts and crafts, bingo, and light exercise.
"Just don't ask me to play bingo or do crafts today (laughing). I'm done with that," said Vicky.
While bingo and crafts are notably some of the most popular activities in skilled nursing facilities, if Vicky doesn't like them, why does she love where she's at so much?
"Well, I was living alone - I had lots of family nearby, but I was living by myself, and things were just getting harder and harder."
"I was getting pains in my legs and just wasn't getting around as easy. And the house, I couldn't clean like I used to or maintain it. It was getting pretty rough. Sometimes I would say a prayer before I went down the steps."
"Then one day, I was sitting in my chair watching my shows, and I just couldn't get up. I tried and tried - and nope, I wasn't going anywhere. I was stuck in that chair. My legs just wouldn't work."
"I was too embarrassed to call anyone, so I sat there for four days until my cousin stopped by to check on me, and there I was. Of course, they were all upset because I didn't call for help, but they called the ambulance, and off to the hospital I went."
Doctors suspected that Vicky may have suffered a minor stroke that led to her inability to move. She spent about a week in the hospital before transferring to Allied Services Skilled Nursing Center in Scranton.
"I love everything here. There are always people around - other residents, all the staff, everyone is so nice and you're never alone."
"It's not often someone comes into a skilled nursing center and is happy to be here or has had the opportunity to make this decision for themselves," notes Melissa Pedriani, BSW, Assistant Director of Social Services, Allied Services Skilled Nursing Center. "Vicky is a great example of what these facilities can be here for. She makes the most of every day that she's here."
So even though you won't find Vicky playing bingo or doing a craft, you will find her enjoying meals with her roommate or listening to George Rittenhouse when he stops by to perform, and you will find her watching her soap operas. Just don't bother her if the Young and the Restless or the Bold and the Beautiful are on!
"I really do enjoy it here. I don't have any more worries. I feel safe, and my family knows I'm happy and safe right here!"