Dr. H. Penugonda
Author: H. Penugonda
Date Submitted: Apr 2, 2019
Category: Parkinsons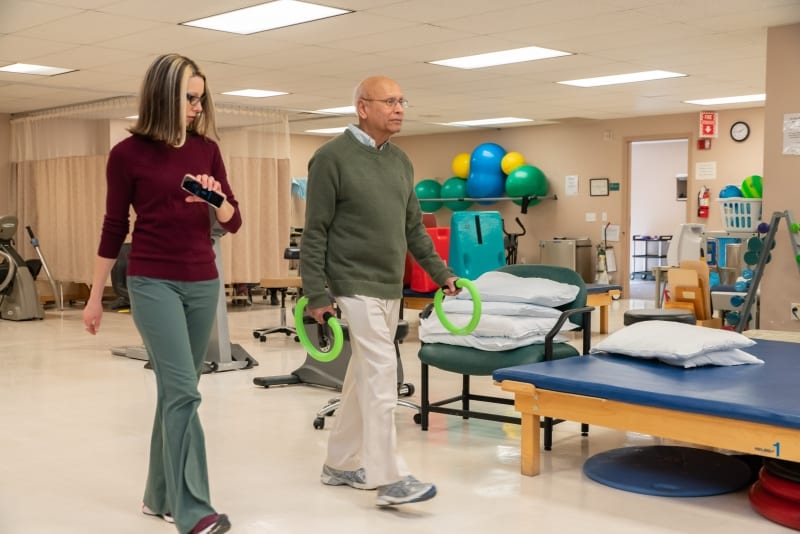 It came as a surprise to his family and partners when Dr. H. Penugonda announced his retirement in early 2011, but as he noted to his colleagues, he felt it was his time. After many years as a prominent urologist, he would now pursue his love of reading and gardening and spend more time with his family.
Though Dr. Penugonda was still leading an active and healthy lifestyle, exercising at the local YMCA three days a week, his first visit to Heinz Rehab came in October of 2011 when he required rehab after a complete knee replacement. Dr. Penugonda would spend one week as an inpatient at Heinz Rehab Hospital in Wilkes-Barre before he transitioned to the outpatient program for another six weeks. Thrilled with their experience his wife, Dwaraki, noted: "Not only did my husband receive great care, but we saw the great care that was given to others."
As the months went by, Dwaraki, who is also a doctor, noticed some changes in him that she was sure was a sign that something was wrong, but not with his knee. The shuffling of feet and masked face were just a few of the early signs that Dwaraki noticed as she began to suspect her husband may have Parkinson's disease (PD). She urged her husband to seek out a specialist for a diagnosis, but as many do with these types of symptoms, he insisted everything was fine. It would be years before Dr. Penugonda would be officially diagnosed.
Consistent with the typical symptoms of PD, over the years that would come, he and Dwaraki began to see more and more symptoms appear. A loss of smell, agitation, fatigue, and difficulty handling objects such as plates, cups, and silverware. After much debate, in 2013, Dr. Pendugonda sought out a specialist at Penn Hospital in Philadelphia. It was then that he received his Parkinson's diagnosis.
Parkinson's disease is a progressive nervous system disorder that affects movement. Symptoms typically start gradually and sometimes are barely noticeable. While the common signs and symptoms of PD can be different for everyone, tremors are common, as is stiffness or slowing of movements. In the early stages of Parkinson's disease, your face may show little or no expression. Your arms may not swing when you walk. Your speech may become soft or slurred. As PD progresses, so will its symptoms.
Although Parkinson's disease can't be cured, medications have been shown to significantly improve symptoms as well as certain forms of therapy and exercise. While maintaining his condition with various medications and exercise, Dr. Penugonda was not doing Parkinson-specific exercises. After learning about the specialty Parkinson's programs at Allied Services, Dwaraki asked the doctor at Penn Hospital if this type of program would be helpful, and he vehemently agreed.