Dolly G.
Author: Dolly G.
Date Submitted: Apr 13, 2015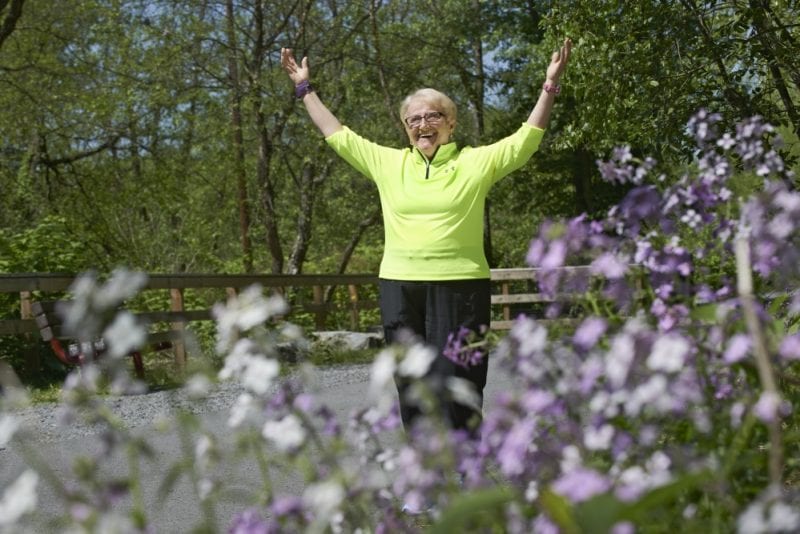 On April 12th, 2015, Scranton will play host to 3,000 athletes for the Second Annual Scranton Half Marathon. For some, the journey to the starting line at Valor Credit Union Stadium started thousands of miles away; the field of runners includes athletes from 20 states.
For others, it will mark a significant milestone; their first long-distance race.
For one local runner, the journey to the starting line has been anything but smooth. It has involved serious injury, surgery, and hours of physical therapy. Ultimately however, the journey has given this runner an appreciation for what she's capable of achieving with the help of friends, family, and experts.
63 year old Dolly first took up running six years ago. Although the Old Forge native has always led an active life, it took a serious injury and a temporary loss of independence to put her on a new course in life.
In March 2009, Dolly slipped and fell on black ice, injuring her shoulder. The injury caused her great pain and gave her a renewed appreciation for her independence.
Following rotator cuff surgery with orthopedic surgeon, Dr. Kevin Colleran, Dolly began physical therapy at Allied Services' Taylor Rehab Center. She chose Allied because she was confident that they would be able to address the complexity of her injury and help her to return to an active lifestyle. What she discovered in her own neighborhood was a team of professional yet personable therapists willing to work around her schedule and support her to a full recovery.
Physical therapy was grueling and painful, but by August, Dolly was able to return to Wegmans, where she works part-time as a cashier. Soon after, her son Jared, who is an avid runner, encouraged her to join Scranton Running Company's couch-to-5k running program. Dolly gamely accepted the challenge and soon discovered a passion for running.
As she turned 60, Dolly set herself a new goal; to run a half marathon. While training for the 2012 Wendy's Wonderful Kids Half Marathon in Wilkes-Barre, she encountered a plantar fasciitis tear. She completed the race, running through the pain, but also causing further injury. Afterwards, she received corticosteroid injections from Dr. Gershey, and not surprisingly, chose Allied Taylor Rehab Center for physical therapy. Once again, the Allied team got her back on her feet and training for her next race.
While preparing for the 2014 Wineglass Half Marathon in Corning, NY, she endured bone spurs and another small tear in her plantar fasciitis.
Her podiatrist, Dr. Laura Deleo, recommended physical therapy to ensure a safe, productive return to running. With help from Allied's physical therapists, Dolly overcame her latest injury to run another half marathon.
Coming into her third half marathon, Dolly feels ready for the challenge. She has drawn strength from her own experiences. She encourages her co-workers and is a regular participant in twice-daily Stretch at Work program, as well as the "Eat Well. Live Well." Dolly is smart about not running in inclement weather, especially when there are icy conditions!
If you're in the crowd at the Second Annual Scranton Half Marathon, be on the look-out for Dolly. You'll know her by her megawatt smile and the fan club of family, friends and Allied therapists and supporters cheering her on. Dolly trains with a group led by coach Frank Swaha, an accomplished marathoner who completed the 2014 TCS New York City Marathon as part of Ryan's Run 5, raising funds for Allied Services Integrated Health System.
Dolly's advice to others seeking an active lifestyle? Regardless of age, we all have goals. Make sure you surround yourself with people ready and able to help you achieve your goals, no matter the obstacles. Dolly knows she will be back to Allied Services Taylor Rehab Center if and when she needs physical therapy!