Baker Tilly donates $15,000 to support individuals with disabilities at Allied Services
Posted On:
Written By:

Allied Services Integrated Health
PHOTO ID:left to right, Dave Argust, Vice President, Financial Services; Allied Services; Laura Robson, Paraprofessional, Baker Tilly; Mark Ross, National Healthcare Provider Practice Leader, Baker Tilly; Atty. Bill Conaboy, President & CEO, Allied Services; Robert Cole, PhD, Senior Vice President, Chief Analytics Officer, Allied Services
Baker Tilly US LLP (Baker Tilly) recently presented Allied Services with a check for $15,000 to support the annual Team Allied Services campaign. This represents an annual corporate donation and funds raised by its employees in support of children and adults with disabilities at Allied Services.
Baker Tilly is a long-time supporter of Allied Services, serving as a multi-year, major sponsor of WNEP's Team Allied Services. Since 2010, Baker Tilly has donated more than $165,000 to Allied Services and Team Allied Services. The annual charity supports the work of Allied Services, a non-profit health system: making miracles in rehab, helping people regain health and independence after an injury, improving the quality of life for people living with Parkinson's or recovering from a stroke, empowering children to overcome a learning disability and much more. Learn more about Allied Services.
"We are proud to once again support Allied Services, one of the premier healthcare organizations in Northeastern and North Central Pennsylvania. The funds raised during both the 2020 and 2021 Team Allied Services campaigns are even more meaningful to the Baker Tilly Team given the COVID-19 environment in which Allied Services has been operating for the past two years. It has certainly been a challenging time for all healthcare providers." Mark Ross, Baker Tilly's national healthcare provider practice leader, said.​
Baker Tilly is a leading advisory, tax, and assurance firm with more than 3,700 employees across the globe, and is ranked as one of the top 10 largest accounting and advisory firms in the country.
This year, two Baker Tilly employees participated in the 2021 TCS New York City Marathon. While training for the marathon, Dylan Jenkins of New York City, and Laura Robson of Wellsboro, PA, raised funds and awareness for the Allied Services. This was Robson's second time representing Baker Tilly in the TCS New York City Marathon. She ran in honor of her daughter, Jordis, who suffered a stroke before birth, and uses therapy services like those provided by Allied Services.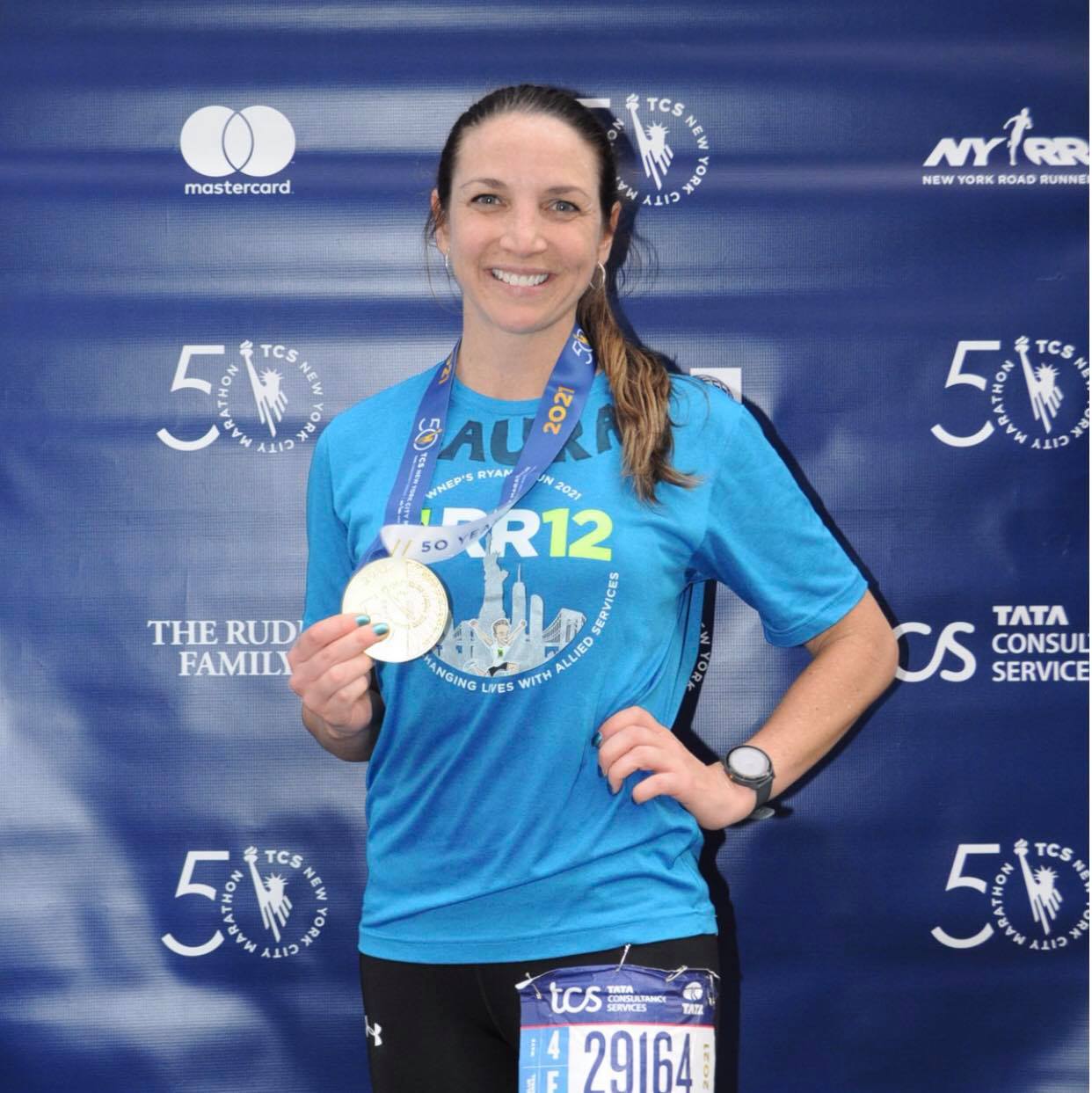 ​
Laura Robson and Dylan Jenkins of Baker Tilly proudly display their medals after finishing the 2021 TCS New York City Marathon on November 7, 2021.

​