Russell "Russ" C
Author: Russell C.
Date Submitted: Feb 10, 2021
Category: Joint Replacement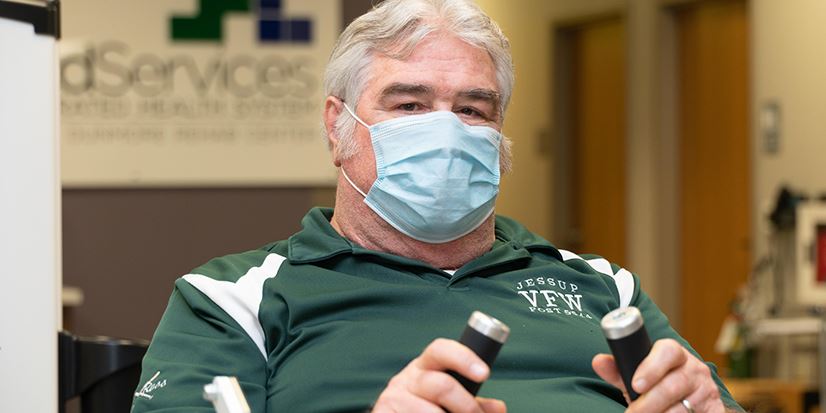 Joint replacement is an intensive surgery that can put significant strain on the body. It will take time for patients to recover and adjust to the new joint. After an initial period of recovery following surgery, most patients will need to undergo rehabilitation before they can resume their normal activities. It's not surprising then, that so many people put off having this kind of procedure. That was the case for Russ and his knee replacement.
"I just lived with it for years. I've always just been too busy to get it taken care of."
The 72-year-old from Jessup is very active in his local Veterans of Foreign Wars (VFW) post as well as at the district and state level. A member of VFW Post 5544 since 1970, he has held all chair positions including Post Chaplain and Commander - a position for which he was recognized as an All-State Commander. At the District level, he has been an All-State and All-American District Commander and has held numerous positions including Inspector, Chief of Staff, and Internal Affairs Committee member.
"I was supposed to have the operation back in 2013, but I had just become the State Commander for the VFW, so I had no time to be out for something like a knee surgery. Years later when things calmed down a bit, I tried a few things like therapy and a gel injection, but to be honest with you those injections never worked for me. It was just kind of putting a band-aid on it (his knee) so I could get by."
"I was thinking about having the surgery but had to delay it again all through 2018 and 19 when I was elected Chairman of the Eastern States Conference. That included 11 states and all of Europe."
While Russ was continuing to do the best he could to maintain his knee, a fall during a hunting trip led him to seek a more aggressive approach to his mobility issue.
In August of 2020, Russ underwent a total replacement of his left knee. The same-day surgery performed in the Lehigh Valley had Russ returning home just hours, not days, after surgery. He had been given home instructions and was constantly evaluated by his physician for an appropriate time to begin a more rigorous physical therapy plan. Russ developed lymphedema in his leg and sought out an expert in the field to help manage this and his post-surgery recovery.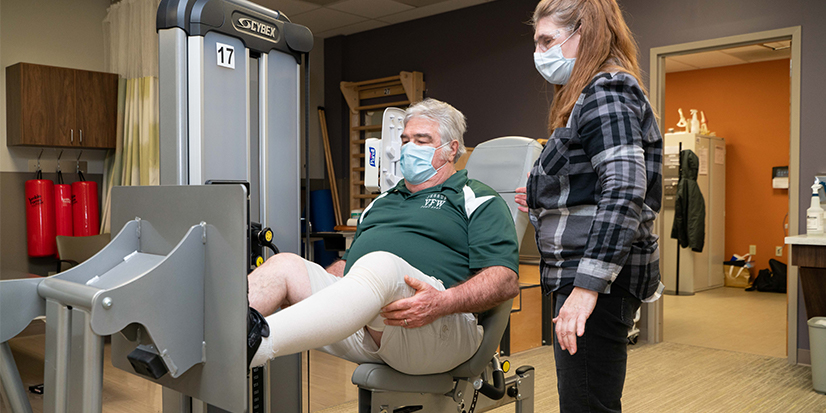 Russ C works with Lori Ashman-Williams, MS, PT, CLT at the Dunmore Rehab Center.
Lymphedema is a type of swelling that causes an accumulation of lymph fluid in the soft tissues, most frequently in the arms or legs. Lymph fluid is normally filtered by our bodies' lymph nodes and is then released into the bloodstream. When the lymph nodes are obstructed or damaged, their filtering capacity is overwhelmed and lymph fluid collects and causes swelling.
If left untreated, lymphedema can lead to irreversible skin changes, frequent infections, reduced mobility of the affected limb, and diminished quality of life. Fortunately for Russ, he was able to find the help he needed close to home.
"The swelling gets so bad I have to stop what I'm doing and prop it up."
During his therapy session with physical therapist Lori Ashman-Williams, Russ demonstrated a few of the exercises that are helping to increase his mobility and strength, and reduce the swelling.
"Lori and I work together to treat what's going on and I have complete confidence in her. I would say it's about fifty percent normal therapy for a knee replacement and the other fifty percent is working on controlling the lymphedema, and it's making a big difference."
Before starting therapy, Russ notes that going up and down a set of stairs was a daunting task. Thanks to his therapy sessions, it's improving.
"I used to have to tackle them one step at a time, now I can go up them like normal. Down is a little bit tricky, but I'm getting there. The overall extension in my knee is getting better and I'm very happy."
When we asked Russ how he felt about returning to a therapy center during a pandemic he said,
"The first thing I did when I came in was watch, and every time someone would leave a machine or a table, someone else was right there cleaning it up. Right then I could tell they were doing everything they could to keep everyone safe."
Learn about lymphedema treatment or joint replacement rehab.
About Russ: Russ is a veteran of the Vietnam War and also did a tour in Korea. He served a tour with the Army's C-Battery 8th Battalion Artillery in Vietnam and with the 8th Army General Support Group in Korea. He has received numerous awards and accolades for his service, dedication, and skill.
He graduated from Lackawanna College with a business administration degree and worked for Empire Construction Company and the State Department of Welfare retiring in 2014.
Russ coached Little League and Teener Baseball for 46 years, as well as local basketball and football teams for nearly 9 years. He is an avid hunter and fisherman. He and his wife Grace reside in Jessup and have three grown children and several grandchildren.