Run to Ruth: Ultramarathoner Runs 220 Miles to Talk to His Grandmother Through a Window
REPOSTED FROM RUNNERS WORLD
Corey Cappelloni went above and beyond to lift his 98-year-old grandmother Ruth's spirits.
With just one mile left to go in his seven-day, 220-mile run from Washington, D.C., to Scranton, Pennsylvania, Corey Cappelloni stopped to take in the crowd that was growing in a socially distant manner. At the start of his journey, he didn't think he would receive a hero's welcome when he arrived on June 19, yet here he was—the talk of the town in which he grew up.
But it wasn't so much the insane mileage though that brought on the fanfare. Rather, it was the destination: A window of the nursing home and rehab facility where his grandmother, Ruth Andres, lives.
When much of the nation shut down in March to slow the spread of COVID-19, Cappelloni made sure to call his grandmother every other day.
"She's 98, turning 99 in December," he told Runner's World. "When I called, I could tell she was becoming depressed and worried, saying things like, 'If I never see you again.' It was sad. She would cry and this was hard because she had always been there for me."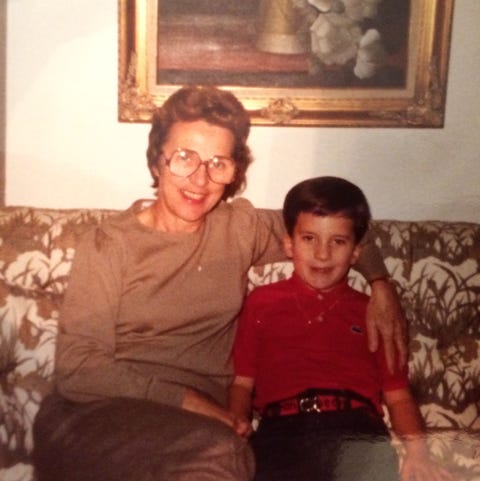 COURTESY OF SUSAN KAMENAR
ADVERTISEMENT - CONTINUE READING BELOW
Cappelloni, who grew up two houses down from his grandmother, said she was like a second mother to him, always telling him that he was going to succeed and believing in him. That continued into adulthood—she was always supportive of his running adventures, like the Marathon des Sables.
Seeing her in this scared state, Cappelloni felt helpless at first. Because of the coronavirus, he couldn't just go see her, but he wanted to do something.
"I started sending her weekly gifts like photography books of where I've traveled and picture books because her vision has gone down," he said. "Now she had something to look forward to every week. That was uplifting for me to feel some sense of power to make a difference even though it was a challenging situation. I wished I could just go give her a hug."
Ruth loved the gifts, but Cappelloni wanted to do more—and his girlfriend, Susan Kamenar, had the wild idea to run the distance to Scranton to see her. Cappelloni initially scoffed at the idea, but they decided to give Ruth's nursing home, Allied Services Skilled Nursing & Rehab Center, a call.
Things grew from there—one conversation with Ruth's nurse led to a chat with the home's administration, which sparked the idea to turn this run into a fundraiser for Allied and its workers. Before they knew it, Cappelloni and Kamenar had planned a 220-mile run where Cappelloni would finish at Ruth's home, and chat with her through a window. (You can donate to the cause here.)
They couldn't wait to tell her.
This content is imported from YouTube. You may be able to find the same content in another format, or you may be able to find more information, at their web site.
Cappelloni and Kamenar planned their route using Google Maps, and viewed the entire way using Google Street to ensure there was a safe passage. They also planned out the support system—Kamenar would get an RV and handle logistics like food and recovery from there.
They felt fully prepared for the journey—but then Ruth called. Her roommate tested positive for COVID-19, and Ruth contracted the virus shortly after. Cappelloni considered getting to Scranton faster, but he ultimately decided to move forward with his run as planned.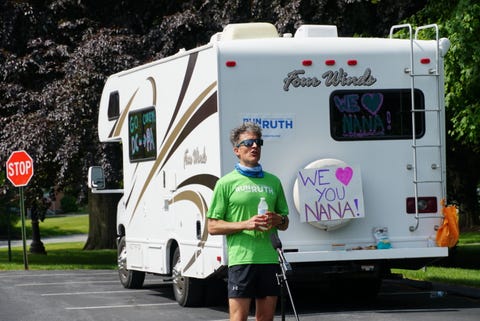 COURTESY OF SUSAN KAMENAR
ADVERTISEMENT - CONTINUE READING BELOW
"I knew she was going to fight," Cappelloni said. "I knew she was going to fight all the way through. People asked if I wanted to move up the date of the run, but I didn't want to concede. That would be conceding defeat. I knew she had fight. I knew she had miles left in her. And at 98, the coronavirus came and she tested positive, and she had some very rough days, but she fought through them."
On Wednesday—day six of the run, and the toughest day thus far—Cappelloni received a text. And this time, it was good news.
Corey Cappelloni Gives Update on Nana's Condition
by Runner's World US
Current Time 0:01
/
Duration 2:41
Loaded: 22.12%
After a rest day on Thursday, Cappelloni took off for the final stretch of his run first thing Friday morning. The adrenaline from the excitement carried him quickly through the first 13 miles, but he was slowed when he missed a trail entrance and had to take a longer way. But that didn't stop him from paying respects to his other grandparents and great-grandparents by stopping at the places of their births or their old homes in Scranton.
Finally, about a mile and a half away from the nursing home, he paused to allow them to make the final preparations for his arrival. And as he ran his final stretch, he was welcomed by a cheering crowd with signs, directing him to Ruth.
Because she lives on the fourth floor, Cappelloni spoke to Ruth via microphone and speakers, with a nurse holding a phone in Ruth's room. (You can see the whole conversation below)
This content is imported from Facebook. You may be able to find the same content in another format, or you may be able to find more information, at their web site.
Cappelloni wasn't able to go into the facility to see Ruth, though she wanted him to. His legs are also feeling sore, and he plans to take a few weeks off to rest. But he'll be thinking about this run a lot over the coming weeks.
"I don't think there's a race I could do that would be more memorable or more meaningful than this," he said. "I think this will be the highlight of my running career."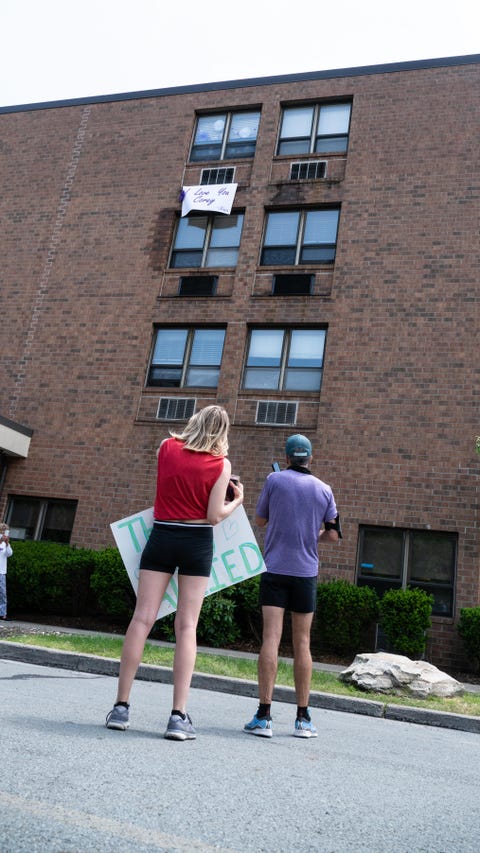 CE BURNS MEDIA
ANDREW DAWSON Gear & News EditorDrew covers a variety of subjects for Runner's World and Bicycling, and he specializes in writing and editing human interest pieces while also covering health, wellness, gear, and fitness for the brand.